Honour Award
The Outdoor Play Canada Honour Award is the highest form of recognition by Outdoor Play Canada. The award is designed to recognize and celebrate an individual/organization who has demonstrated exceptional and sustained leadership for the promotion of outdoor play in Canada. Qualified nominees are individuals/organizations who have made outstanding contributions to outdoor play through leadership, capacity development, practice, policy, research, advocacy, role-modelling, and other efforts to substantially support the outdoor play movement in Canada.
2021 winner: The Child Nature Alliance of Canada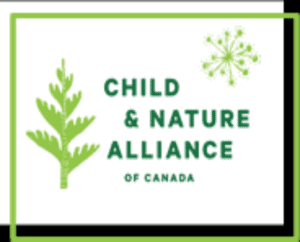 The Child Nature Alliance of Canada is dedicated to fostering meaningful connections with the outdoors for children and youth through policy, research, and practice. This dedication is realized through their major initiatives: Forest School Canada (the major educational arm of CNAC), Thrive Outside (their online resource and learning hub) and their work towards reconciliation as an organization that benefits from and on the Land. CNAC's Forest and Nature School practitioner's course is a year-long certificate course with a focus on outdoor experiential learning, inspiring professional learning opportunities, community building and advocacy. Those who have gone through the CNAC course have expressed the impact the course has had on creating a fantastic learning and play environment, inspiring adults and children alike to rethink their relationship with the natural world. Thrive Outside, CNAC's online hub, is an innovative and accessible portal of information designed to helps educators, recreation workers, care givers and parents connect children with nature through outdoor learning and play. CNAC recognizes that the organization is currently led by white settlers, headquartered on the unceded traditional territory of the Algonquin Anishinaabe (in Ottawa). CNAC has imposed a settler colonial way of being with the Land because programs were not co-created with Indigenous people. This approach has perpetuated harm and the organization benefits from colonization in the way that it operates. CNAC is actively working to repair relationships with the Indigenous communities and people whom they have harmed and, if they are willing, CNAC will work towards co-creating trusting, safe and reciprocal relationships with them. From that place of reciprocity, CNAC hopes to recreate the Forest and Nature School Practitioners Course and co-create all future programming with Indigenous partners across Canada. In doing that, CNAC hopes that Indigenous and Western worldviews will have equitable voice and space in programs so that they are safe, meaningful and culturally relevant for all participants.
It is our honour to recognize CNAC for their sustained commitment to outdoor play quality program delivery through this award. Congratulations!
Dr. Mariana Brussoni Award
The Outdoor Play Canada Dr. Mariana Brussoni Award is intended to recognize and celebrate an individual who has provided leadership for the promotion and activation of outdoor risky play in Canada. Qualified nominees are individuals who have demonstrated exceptional commitment and leadership for the promotion of children's healthy, active, and risky outdoor play, and whose contribution has advanced Outdoor Play Canada's capacity to achieve its objectives.
2021 winner: Brenda Simon and Linda Naccarato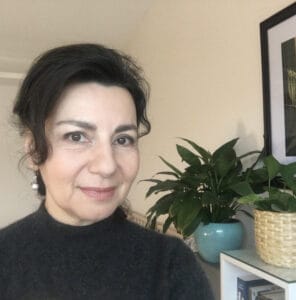 This year we are giving this award to two individuals for their central roles in the success of the OPAL (Outdoor Play and Learning) program; Brenda Simon and Linda Naccarato.  OPAL is a mentor-supported school improvement program to help schools transform attitudes to play provision and supervision, and conceptualization of risk management in terms of healthy risk-taking and risky play. The goal of this program is to help ensure that students have opportunities for play every day.
Brenda Simon is responsible for introducing the OPAL program into Canada. Brenda was a human rights lawyer, parent and teacher who started a small consultancy in 2011, PLAYbynature, to advocate for better play provision in schools and parks. In 2013, Brenda travelled to Bristol, UK to learn about OPAL U.K., and shortly thereafter became Canada's first certified OPAL mentor. In 2015, Brenda contributed to the Position Statement on Outdoor Active Play.  With support from the Lawson Foundation and the Ontario Trillium Foundation, Brenda formed a partnership with Earth Day Canada and the Toronto District School Board to adapt OPAL to Ontario school conditions. Under her leadership, OPAL grew from a small early-years pilot at 6 schools to a $1.3 million program, reaching 38 TDSB schools over 4 years.  It is estimated that as many as 15,000 students, from kindergarten to Grade 6, benefitted from OPAL play provision at the TDSB. The program was taken up at the Toronto Catholic District School Board and at the Jackman Institute for Child Study (JICS) Laboratory School, OISE, University of Toronto.  Working closely with allies in the Environment and Sustainability Community Advisory Committee (ESCAC-TDSB), Brenda drafted Recommendations for a Play Policy in 2019, which are currently helping to inform new outdoor education policies and practices at the TDSB.  Brenda has presented extensively about risky play and OPAL's contribution to child well-being in schools.  In her current role as program consultant to Natural Curiosity, a professional learning program of the JICS, Brenda continues to work for education transformation, providing support through professional learning in outdoor play provision, nature connection and inquiry-based learning.  She is currently writing The Educator's Almanac to Growing Natural Curiosity, due to be published in the spring of 2022.  This reading and reflection guide to Natural Curiosity 2nd Edition, addresses common educator anxieties related to outdoor play, risk management and inquiry-based learning, and respectfully responds to the addition of Indigenous perspectives in the 2nd Edition.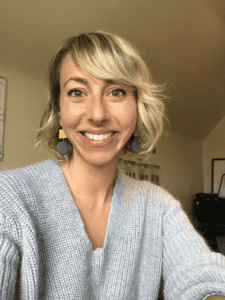 Linda Naccarato began working with the OPAL programme in Toronto in 2016. Through her work with the not-for-profit EcoKids, Linda managed the expansion of the OPAL program to over 38 public schools in the Greater Toronto Area. In 2017, Linda became Canada's second certified OPAL mentor. As an OPAL mentor, Linda works to embed play into the school's policies and practices with clear guiding principles and strategies to initiate lasting changes at play times. She has presented at conferences locally and internationally on the success of the OPAL program. Linda is deeply connected with the outdoor play community in Canada through her involvement with the Lawson Foundation's Outdoor Play Strategy, as a member of Outdoor Play Canada, and through ongoing collaboration with the Toronto District School Board.
It is our honour to recognize Brenda Simon and Linda Naccarato for their leadership in the promotion and activation of outdoor risky play in Canada, through this award. Congratulations!
Policy Award
The Outdoor Play Canada Policy Award recognizes and celebrates a significant contribution to the policy base for the field of outdoor play. It is awarded to a policy-maker and/or organization for demonstrated commitment and leadership in policy development and/or implementation that promotes and/or facilitates outdoor play. Qualified nominees are individuals or groups/organizations whose efforts have resulted in improved quantity and/or quality of outdoor play through developing, refining, implementing and/or promoting policies/regulations facilitating outdoor play.
2021 winner: Mike Arthur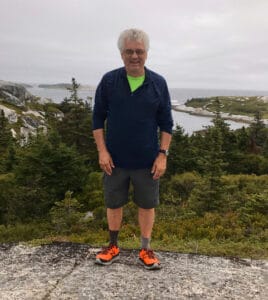 Mike Arthur has been an active outdoor play advocate for years. Though now retired from a full career with the government of Nova Scotia, Mike does not rest! His latest venture is working with the UpLift Partnership, a school-university-community partnership hosted by the Healthy Populations Institute at Dalhousie University. In this role he leads the development and execution of outdoor play workshops to support municipalities to develop policy actions that support and promote outdoor play for children and youth across Nova Scotia. We are all very excited to see where this and future outdoor play ventures take him.
It is our honour to recognize Mike for his commitment and leadership to outdoor play policy development through this award. Congratulations!
Practice Award
The Outdoor Play Canada Practice Award recognizes and celebrates individuals/groups/organizations for sustained commitment to quality practice or program delivery that promotes and/or facilitates outdoor play. Qualified nominees have demonstrated dedication, commitment, passion, innovation or creativity to current practice or program delivery to promote/facilitate quality outdoor play experiences.
2021 winner: Janna Sullivan, Aleesha Bird, Joanne Dunn, Meera Bandechha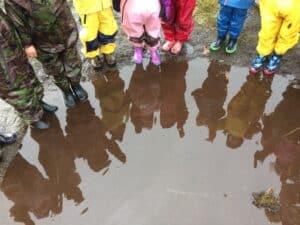 Janna Sullivan, Aleesha Bird, Joanne Dunn and Meera Bandechha, a team of Kindergarten and Junior Kindergarten teachers at the Nature School at Glenlyon Norfolk Junior School have created an environment that is not just outdoor education. It is not just environmental education, nor is it just play. It is a unique combination of all three. It is about discovery outside, which makes their daily guidance to their students very special. They encourage students to learn through direct experience and activities that flow from what nature presents each day, whether on campus, on a local hike or further afield. Their goal is to tap into the 3- to 6-year-old students' sense of wonder about nature while teaching basic environmental and natural science principles as well as connecting First Peoples' Principles of Learning. These educators take advantage of the outdoor environment and expand their students' understanding and pure joy that being outside brings. The passion these teachers show is evident in the incredible experiences the students have. This joy of being outside then flows through in conversation into the students' homes and communities and social media platforms. These educators have left an indelible impression on these young people early on: a true love of and curiosity for the outdoors.
It is our honour to recognize these educators for their commitment to outdoor play program delivery through this award. Congratulations!
Research Award
The Outdoor Play Canada Research Award recognizes and celebrates an individual for national leadership and outstanding contribution to research related to outdoor play. Qualified nominees are prominent researchers who have demonstrated research excellence recognized as scholarly output and recognition in the field of outdoor play that has demonstrated national impact.
2021 winner: Trish Tucker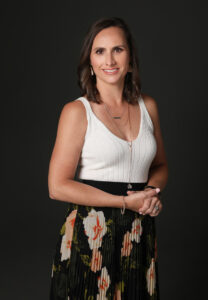 Dr. Trish Tucker is an associate professor and faculty scholar within the School of Occupational Therapy at Western University in London, Ontario. Her research interests include physical activity measurement and promotion, particularly in the early years, as well as understanding the role of childcare in supporting children's movement behaviours. Producing some of the first national and international studies examining physical activity in childcare, Trish has spent the past 15 years advancing our knowledge and understanding of the environmental impacts on children's levels of physical activity and sedentary behaviours.
Over the last two years, Trish Tucker has contributed substantially to the field of outdoor play research; she has published 23 articles, given 3 presentations, and received 2 awards related to outdoor play in early childhood. As director of the Child Health and Physical Activity Lab at Western University, she leads a synergistic group of trainees, all of whom demonstrate the same passion and vigor for supporting healthy active children through outdoor play. Dr. Tucker's supervisory and mentoring skills have been recognized by her recent receipt of Western University's Post-Doctoral Supervisor of the Year award and her nomination for Obesity Canada's Faculty Supervisor Award. Her dedication to her students is exemplified by their high success rate in securing competitive graduate scholarships and coveted positions post-graduation, including with the Royal College of Family Physicians and Surgeons of Canada, ParticipACTION, the University of Toronto's Faculty of Medicine, SickKids Hospital, and various public health units across Ontario.
Having held a number of tri-council grants in her short tenure, Dr. Tucker's research efforts continue to be recognized; most recently by an Ontario Early Researcher Award (reserved for emerging scholarly leaders within their respective fields) and the Petro Canada Young Innovator Award. She was also recently designated as Faculty Scholar within the Faculty of Health Sciences at Western University and has been nominated to join the Royal College Society of Canada (a national system of multidisciplinary recognition for the emerging generation of Canadian intellectual leadership).
It is our honour to recognize Dr. Tucker for her outdoor play research efforts through this award. Congratulations!
Interested in nominating someone for a 2023 Outdoor Play Canada Award?
Members of Outdoor Play Canada can nominate candidates using the nomination form available on the Outdoor Play Canada member's only section of the website. Nominations can be submitted at any time but must be received no later than June 30 2023.