Thank you to Dr. Nicholas Ravanelli and Dr. Shawnda Morrison for providing this post
Are you feeling the heat this summer?
The Active Heatwave study is being conducted by Dr. Nicholas Ravanelli (PhD, CSEP-CEP) and Outdoor Play Canada member Dr. Shawnda Morrison (PhD, CSEP-CEP), to investigate how children and adults perceive ambient temperature changes throughout the summer.
Why is this study being done?
Currently, the world is warming at a faster rate than in previous years.  In the summer months, especially in Europe, but also globally, summers are getting hotter, and there are more heatwaves (days of extreme heat) occurring more often.  Previous studies looking at the differences between adults and children have found that children respond and behave to higher temperatures differently than adults do; young children do not sweat as much, and they may not feel temperature changes in the same way since their cardiovascular system also reacts differently to higher temperatures compared to adults.
What is the purpose of this study?
The purpose of Active Heatwave is to see if there are any differences between adults and children regarding how they perceive the ambient temperature as the summer progresses. Researchers are also interested in the impact of heat on children's exercising habits, especially whether high outdoor temperatures affect other daily behaviours like how much time people spend resting, sleeping, or playing.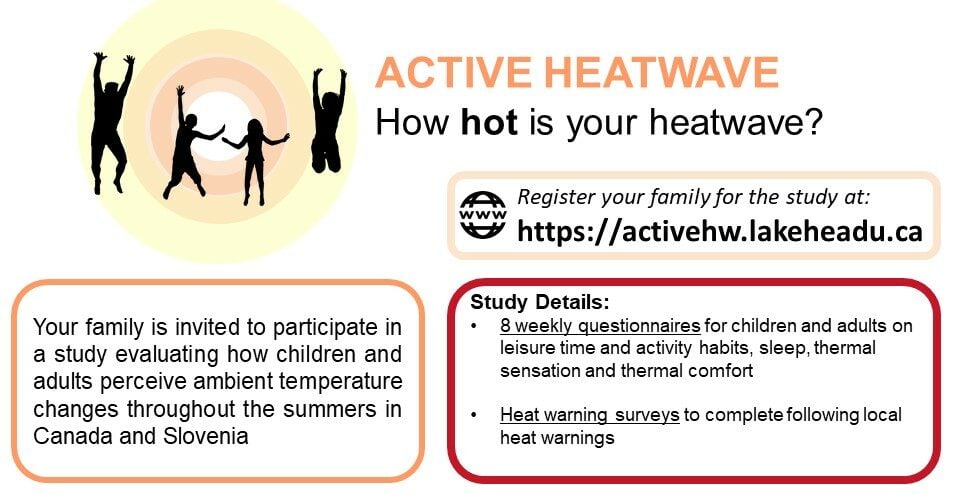 The study involves parents and their children answering a weekly questionnaire once per week for 8 weeks throughout the summer.  The first survey is set to begin this SUNDAY, July 4th, and continue through July and August. If there is a heat warning in effect in your region, you may be asked to complete a special survey for the day that heat warning is in place. This study has been approved by the ethics committee of Lakehead University.
What are the possible benefits for me and/or society?
The results of this study will provide new insight into any differences existing between adults and children regarding thermal perception of heat, and whether ambient temperatures affect daily movement patterns.  This will give researchers more information to develop specific heat-risk models and strategies to keep both parents and children physically active, especially outdoors, even during times of hotter weather.
How can I get involved?
We need you! To read more about the study and register your family to take part in this exciting research, please visit the Active Heatwave website: https://activehw.lakeheadu.ca/ 
For more detailed study information, you can contact the team leaders directly: Dr. Nicholas Ravanelli (nravanel@lakehead.ca) or Dr. Shawnda Morrison (shawnda.morrison@fsp.uni-lj.si)