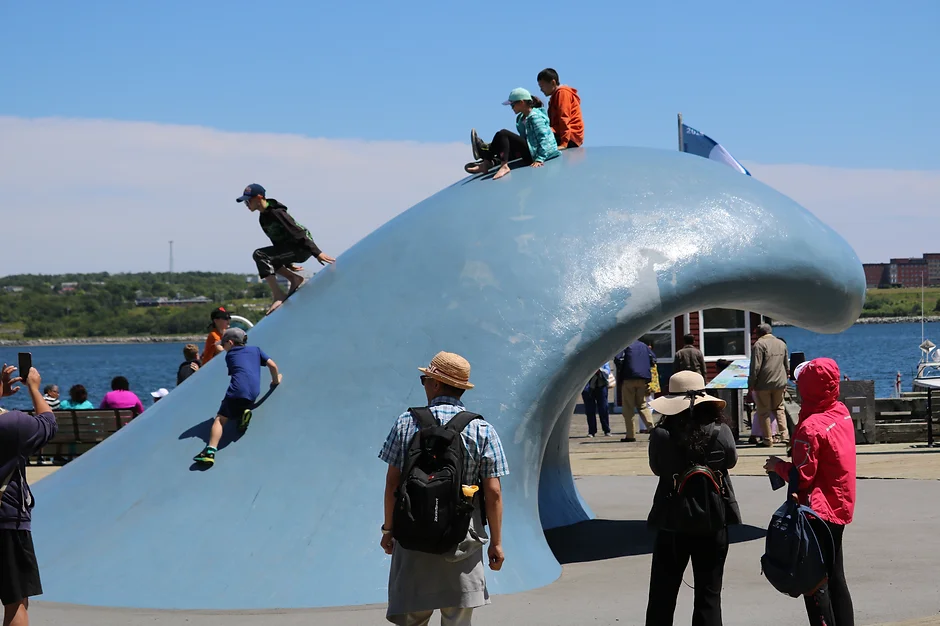 Thank you to Alex Smith (PlayGroundology) for providing this post.
This article was originally published in the Ornamentum.
ARTICLE 31 OF THE U.N. CONVENTION ON THE RIGHTS OF THE CHILD recognizes the child's right to play. Where do children exercise this right? Well, given the chance, just about anywhere. Play is a tough act to contain. It can ignite spontaneously without the slightest warning. As designated play spaces, playgrounds are supportive and stimulating environments for children.
But not all playgrounds are created equal. Only the best include a combination of the following design elements: high heights, spaces to hide and "get lost," the opportunity to make and unmake, the ability to sustain interest, and the capacity to pursue child-led play. The more these features are present, the greater the chance of an engaged playground experience.
For adults, an added layer of fitness-to-purpose occurs when these child-centric spaces are integrated into the community. This can be done by incorporating local culture, ecology, and history into the design, or by drawing on neighbourhood volunteers to help plan and animate events. Park playgrounds present a wonderful opportunity to take advantage of natural surroundings and position playgrounds as child-friendly family hubs.
This overview of six playgrounds and play spaces in eastern Canada considers what gets children coming back for more.
Salamander Playground, Mount Royal Park, Montreal
In Montreal, the historical park of Mount Royal, designed by Frederick Law Olmsted in the 1870s, is enhanced by a contemporary play space. Opened in 2009, the Salamander Playground resonates with adventure, fun, and discovery. Cornelia Hahn Oberlander, the doyenne of Canadian landscape architecture, once told me, "All children need is some sand, water, and a place to climb." The Cardinal Hardy design team was generous with these elements and more besides.
In the wet zone, equal measures of giggles and gasps keep company with the wafting mist. Water bursts skyward from timed fountains. Children dart this way and that. The adventurous among them tentatively place a foot over submerged fountain nozzles. At the centre is a custom-designed water orb slick with a cascading film of water. Children take a running dash to jump astride the orb and slide down the other side, a triumph of derring-do.
Much of the distinctive equipment, like the reimagined see-saw and spin platter that rivals any roundabout for inducing dizziness, is of European design. Form, colour, undulating lines, and spatial positioning set this equipment apart. It is unlike the off-the-shelf fare that populates school yards and many municipal parks. Here, design embraces the same old fun but also invites experimentation with manually-operated sand diggers, climbing spheres and black meteor-like monoliths, spring-riders, spinners, and small scaling walls.
Embedded on pathways and seats is a series of tiles painted with whimsical images and texts by Quebec artist Gérard Dansereau. Dansereau's tiles celebrate the United Nations Convention on the Rights of the Child: the rights to rest, leisure and play, care and protection, non-discrimination, and others.
Finally, those with a bird's-eye view will notice the playground makes the outline of a large salamander. This shape is a tribute to the resident blue-spotted salamanders for which the playground is named.
Salamander Playground is a small oasis in the big city that honours children's rights, play, and conservation.
Strathcona's Folly, Strathcona Park, Ottawa
By the banks of Ottawa's Rideau River in a sprawling rectangle of sand, an assortment of upright columns, arches, and sundry architectural ornaments have the patina of ancient ruins. Artist Stephen Braithwaite salvaged these remnants from buildings throughout the city and repurposed them to create Strathcona's Folly, which opened in 1992 as part of the City of Ottawa's Public Art Program.
Bits and pieces from a convent, balustrades from the Château Laurier, carved stone moulding from the Windsor-Duvernay Hotel, and ironwork lion heads from the Capitol Theatre are all incorporated in this time capsule ensemble. Among the more striking artifacts are large stone blocks with youthful, chiseled faces. In a former life, they adorned a Bank of Montreal building. Now they greet visitors at both principal entries, which face the Range Road embassies on one side and the river on the other.
Braithwaite's deft arrangement of these disparate elements encourages exploration and discovery. It's a space full of nooks and crannies, with places to tuck away, make small and hide, climb and jump, balance and wriggle. Some walls have small, recessed dioramas of bronze Schleich farm animals displayed at child-accessible height. Investigating and touching these features reveals their contrasting textures of fine-grained sand; rough-hewn granite; scalloped concrete; and cool, smooth bronze.
This children's playscape has a message for adults too: a wall plaque states, "Strathcona's Folly is intended to encourage us to consider the cycle of life." At the foot of a pillar, bronze dress brogues nestle next to a pair of young child's shoes in the sand. They represent a parent and child's time together, playtime, and time present and past.
The Wave, Waterfront Boardwalk, Halifax
In Halifax, Donna Hiebert's 1988 installation The Wave rises three metres above the waterfront boardwalk. Its broad base and steep yet manageable slope are an open invitation, a challenge to climb the summit's curling crest.
The sculpture is a regular tarrying spot for strollers enjoying the harbour's sights and sounds. The scamper up, slither down action is an all-ages crowd pleaser, but it is most popular with grade school children. They watch others navigate the precipitous whoosh before launching themselves on the shiny, smooth surface of the city's funkiest slide. A shriek here, and a squeal there accompany a variety of wave- riding styles from cautious balancing acts to thrilling freestyle descents.
Although the artist did not intend this iconic steel and ferroconcrete sculpture as an object for play, children recognized The Wave's recreational possibilities. Repeated public use and interaction popularized this accidental function and made it a people place, a children's space.
Build Nova Scotia, the crown corporation that oversees the Halifax waterfront and The Wave, has demonstrated a strong commitment to play through its installations and programming. Even so, there were stormy seas in the early days.
Fencing encircled the sculpture and signage discouraged climbing altogether. Nevertheless, signs were ignored, fences climbed, and stolen moments enjoyed. Ten years ago, the replacement of the gravel around the sculpture's base with poured-in-place rubber was an acknowledgment of and warming to its play ethos. Today, down on the boardwalk the surf is up, and the kids are alright.
L'Étang-du-Nord and Havre Aubert, Magdalen Islands
It is 300 kilometers as the seagull flies from The Wave to the Magdalen Islands. Fishing ports; drifting dunes; and red ochre, sea-sculpted cliffs feature prominently in these southern Gulf of St. Lawrence islands where a handful of locally designed boats, purpose-built for play, speak to the maritime culture. They are of this place, honouring the people and a way of life with a homegrown, vernacular sensibility.
In L'Étang-du-Nord, a grounded Cape Islander pops with the red, yellow, and blue colours of Acadia. From a distance it appears real, to scale. But the ribs below the deck lines have no planking, and on the port side a wide stairway leads from land to the stern deck, a cabin, bow and wheelhouse. These accessible areas offer room to run, cubbies to explore, and vantage points for lookouts to the fishing fleet docked nearby.
Not far away in Havre-Aubert is a sister vessel decked out for play. It is beached at La Grave Heritage Site, a picturesque strip of land between la Petite Baie and the Gulf of St. Lawrence. There are more seafaring experiences to explore here, with buoys to swing on, rigging to climb, and a ship's bell to ring.
These landlocked vessels, along with similar local designs in other parts of the islands, embody an aesthetic that values local culture and authenticity. For many children, this "realness" causes excitement and engagement, and it provides a great point of departure for imaginative play.
St. James Park, Toronto
While fishing holds sway in the Magdalen Islands, an agricultural, market theme rules the day at St. James Park in downtown Toronto. Designed by Earthscape Play, an award-winning Canadian custom playground design and build firm, this park is a great fit with the nearby St. Lawrence Market founded in the early 1800s.
Giant vegetables are standout features that mix with more familiar fare of swings, slides, climbing bars, and spinning rolls. Succulent asparagus spears tower over a multi-level log climbing frame. On the ground, two giant carrots cross to form an implied "V" for vegetable. The carrots are versatile. They double as balance beams, casual seating, climbing challenges, and other activities. This is one place where kids, without reproach, can play with their veggies.
Another strength of this park's design is its attention to detail that empowers playability. For example, a rope ladder gives access to a stack of oversize food crates stencilled "local produce" and topped by a swirly slide. A rope bridge connects the crates to a fishmonger's stall where stylized wooden fish bolted to walls and beams are perfectly positioned handholds for climbing. What trip to the market is complete without a treat? The St. James Park is the site of an ice cream tragedy. A colossal, open-ended cone lies emptied of its scoops of chocolate, vanilla, and pistachio ice cream. Kids make the best of it, however, by bouncing from scoop to spongey, rubberized scoop.
A little risk, a lot of creativity, and local community representation make St. James Park a great play venue.
The Sandpit, Dufferin Grove Park, Toronto
A hop, skip, and a jump from one of Toronto's older shopping centres, Dufferin Grove Park is a thriving community hub. Outdoor ovens, markets, sporting facilities, and space for play make it a popular destination.
For over 30 years, the Centre for Local Research into Space (CELOS) has represented the views of neighbourhood residents to planning authorities and government. As strong community engagement advocates, they ensure development mirrors local objectives and priorities while maintaining the integrity of the park.
The Sandpit is one of many community-driven projects led by CELOS. It is a sight to behold. Measuring 40 feet by 20 feet this is the largest children's sand pit in Canada and quite possibly the world. The Big Backyard, as the pit is known locally, opened in 1993 to become a destination for children and their parents from across the city.
This example of undesign is a favorite place to play because children have agency. Digging is a popular pursuit. Hands, real garden shovels and their toy counterparts, sticks, and beach rakes are all favourite tools. Tonka dump trucks and graders move the dirt piles to new locations. Gullies, hillocks, and moats are part of the pit's dynamic topography that is an ongoing state of change.
Cast-off boards are put to various uses including rough plank bridges and compact lean-to shelters built for two or three, in a squeeze. At the far end of the pit, the standpipe introduces free-flowing water to make mud, small ponds, puddles, rivulets, or plain old head soaking under the tap.
For children, there is only one thought: "how long can I stay to play?" Other than that, there is no plan, no objective, beyond burrowing into the sandscape up until that moment when the final request to stay longer is vetoed.
Given the opportunity, children will play anywhere. They will have more fun and be more engaged in designs that take into consideration a little adventure and risk, a scale that's manageable, some spaces that are out of adults' sightlines, and opportunities where they can manipulate elements of the environment, where they have agency. Just play.
For a photo story on the playgrounds mentioned in this story, click here.
Photo by Alex Smith.
---
Alex Smith is the founder of the award winning blog PlayGroundology.