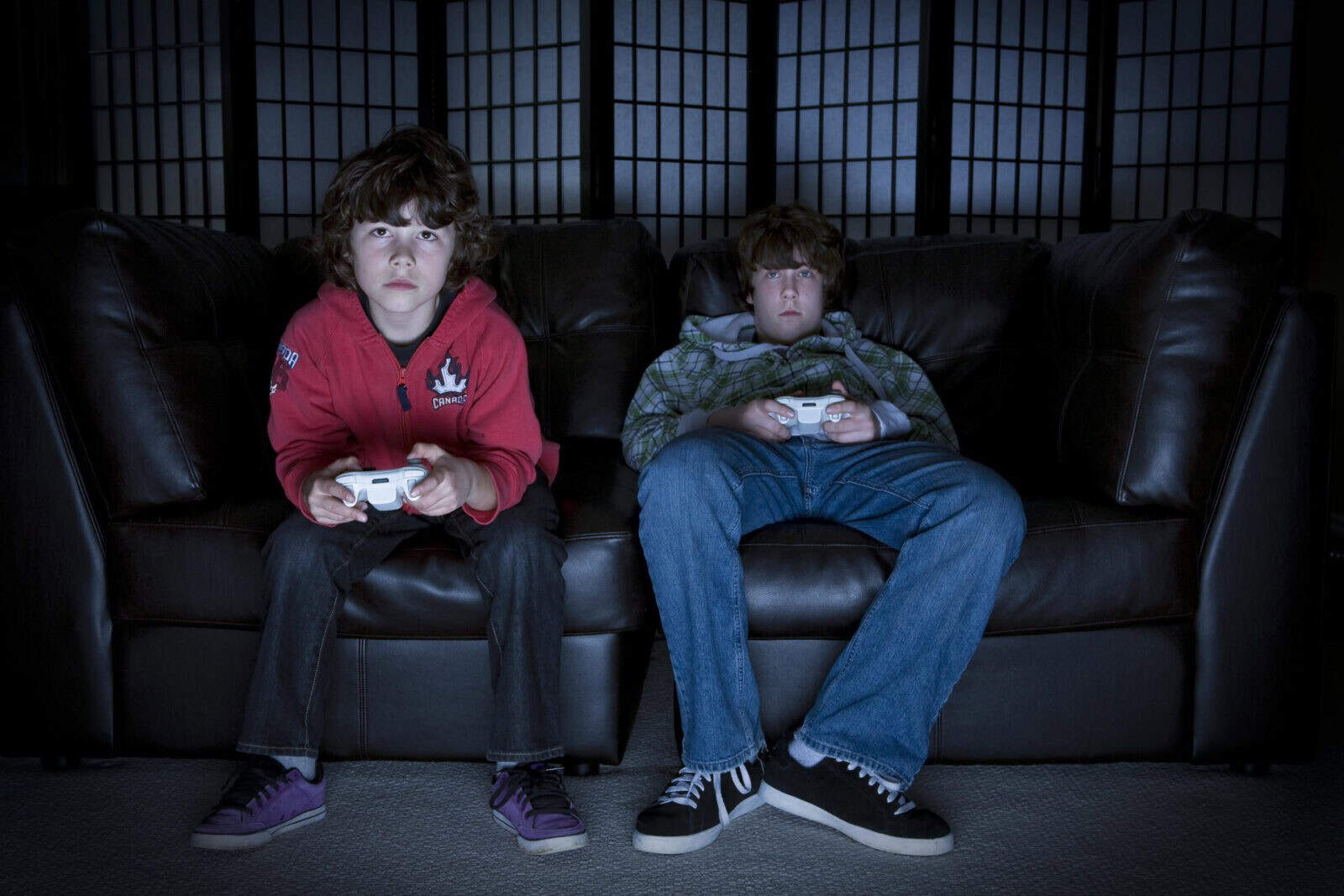 Nature Canada, a national charitable organization has released a report titled Screen Time vs. Green Time" The Health Impacts of too much Screen Time exposing the negative impacts of screen time on Canadian children and providing suggestions to guide children away from screens, and towards nature.
Report highlights and findings
In an article summarizing the Screen Time vs. Green Time report, NatureHood Program Manager Jill Sturdy highlights some of the reports major findings
87% of pre-school children and 85% of school-aged children do not meet the guidelines for adequate sleep, physical activity and screen time;
Students in grades 7 to 12 are spending up to 7 hours a day on screens, more than three and a half times the recommended limit of 2 hours per day;
Higher durations of screen time were linked with poorer behavioral conduct and lower self-esteem;
Adolescents who spend more time on social media and smart phones are more likely to report mental health issues such as anxiety and depression.
The majority of Canadian children are not meeting the guidelines for screen time set by the Canadian Guidelines, endorsed by the Canadian Paediatric Society. As a result, the physical activity, physical health, mental health, and interpersonal relationships of Canadian children are suffering.
Spending so much time on smartphones, video games, tablets, computers and televisions significantly affects eating habits, displaces physical activities, limits children's opportunities to interact with each other, and increases the incidence of mental health issues such as anxiety and depression.

Simultaneously, researchers agree that spending time in nature and being active outdoors is beneficial to children's physical and mental health, and helps improve their resiliency, academic performance and social skills. Physicians in Scotland, America and Canada have started prescribing time in nature, which can reduce symptoms of stress, depression, anxiety, aggression, Attention Deficit Hyperactivity Disorder, diabetes and high blood pressure, and improve cognition and immune function.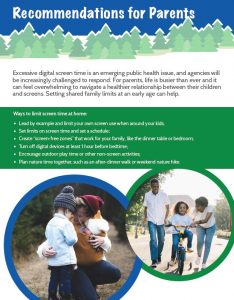 Recommendations for Parents
Lead by example and limit your own screen use when around kids;
Set limits on screen time and set a schedule;
Create "screen-free zones" that work for your family. like the dinner table or bedroom;
Turn off digital devices at least 1 hour before bedtime;
Encourage outdoor play time or non other-screen activities;
Plan nature time together, such as an after-dinner walk or weekend nature hike
Spending time in nature, an alternative to screen use, is extremely important for the physical health and overall well-being of Canadian children and has been found to improve physical health, mental health, resiliency, cognitive function, and social development.
Children who spend time in nature are more likely to:
Be more creative and confident;
Value nature as part of their identity;
Become stewards and champions for nature;
Grow up to respect and protect the natural world;
Recognize the benefits of nature as they become the next generation of scientists, policy makers, teachers, physicians, urban planners, and parents. 
Read the entire Screen Time vs. Green Time report here!