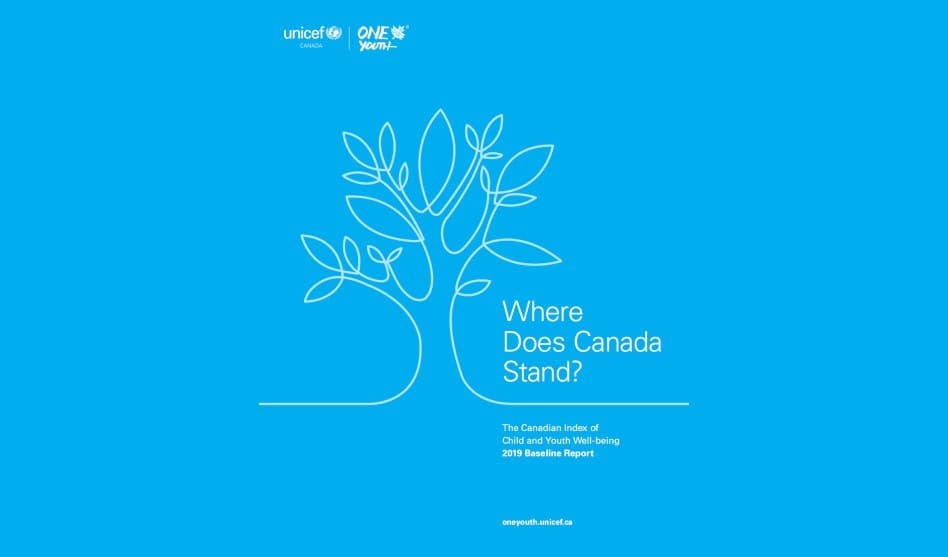 A comprehensive new report from UNICEF Canada asked children how their lives are going. The results show that Canada is a tough place to grow up.
Only 55 per cent of children in Canada report a high level of life satisfaction, with 27 per cent feeling sad or hopeless for long periods of time and 1 in 3 reporting weekly symptoms linked to mental distress, including headaches and stomach aches.
These alarming statistics are part of the key findings from the first baseline report of the Canadian Index of Child and Youth Well-being, released today by UNICEF Canada's One Youth initiative.
The adults deciding on the policies and actions affecting young people must start listening to them to better understand their challenges while also relying on their insights to design effective solutions. Most Canadians, though, think that Canada is a great place to grow up.
"You usually ask people how they are instead of telling them how they are, so why should it be different with children and youth," asked Kamar, 16, a volunteer with UNICEF Canada's One Youth. "Canada will only become the best place to grow up if we do it together with the young people who are facing the current challenges of growing up."
The Index measures 125 indicators of the lives of children and youth, from birth to 18, using the most recently available data. It explores nine dimensions of life for kids – happiness and respect, belonging, security, participation, freedom to play, protection, learning, health and connection to the environment.
Young people under 18 helped build the Index, with 60 per cent of the indicators based on how children and youth report their own well-being. The central question young people want the Index to answer is: "Are we happy and respected?"
Outdoor play related findings from the Canadian Index of Child and Youth Well-being include:
Only 21 per cent of kids 5 to 11 engage in at least 1.5 hours of play or unstructured activity a day;
Almost all (94 per cent) of dwellings with children under 18 have a park and/or public green space close to home;
Most (80 per cent) of 11–15 year-olds report spending four or more hours per week participating in outdoor play in free time;
76 per cent of 12–17 year-olds report walking or cycling to get places or visit friends;
Only 9.5 per cent of 5–17 year-olds meet the moderate-to-vigorous physical activity, screen time and sleep recommendations within the Canadian 24-Hour Movement Behaviour Guidelines for Children and Youth;
15–17 year-olds spent an average of 21 per cent of the previous day in leisure activities;
71 per cent of 15 year-olds are familiar with, or know something about, five or more environmental issues.
UNICEF Canada concludes that rising income inequality and economic insecurity is negatively affecting all aspects of life of the kids in Canada, including mental health, relationships and happiness. Canadians must improve this reality by creating public policies and other actions designed using the perspective and input of young people.
"Canada's kids are telling us what childhood is like in today's society and we all need to start listening," said David Morley, President & CEO of UNICEF Canada. "Our dismal performance on key indicators is rooted in income and social inequality. We must confront these issues head-on so our young people have the childhoods they deserve."
The Canadian Index of Child and Youth Well-being is made possible through the support of our founding and enabling partners: Canadian Index of Wellbeing, University of Waterloo; Lyle S. Hallman Foundation; Lawson Foundation; Intact Financial Corporation; and Overlap Associates.