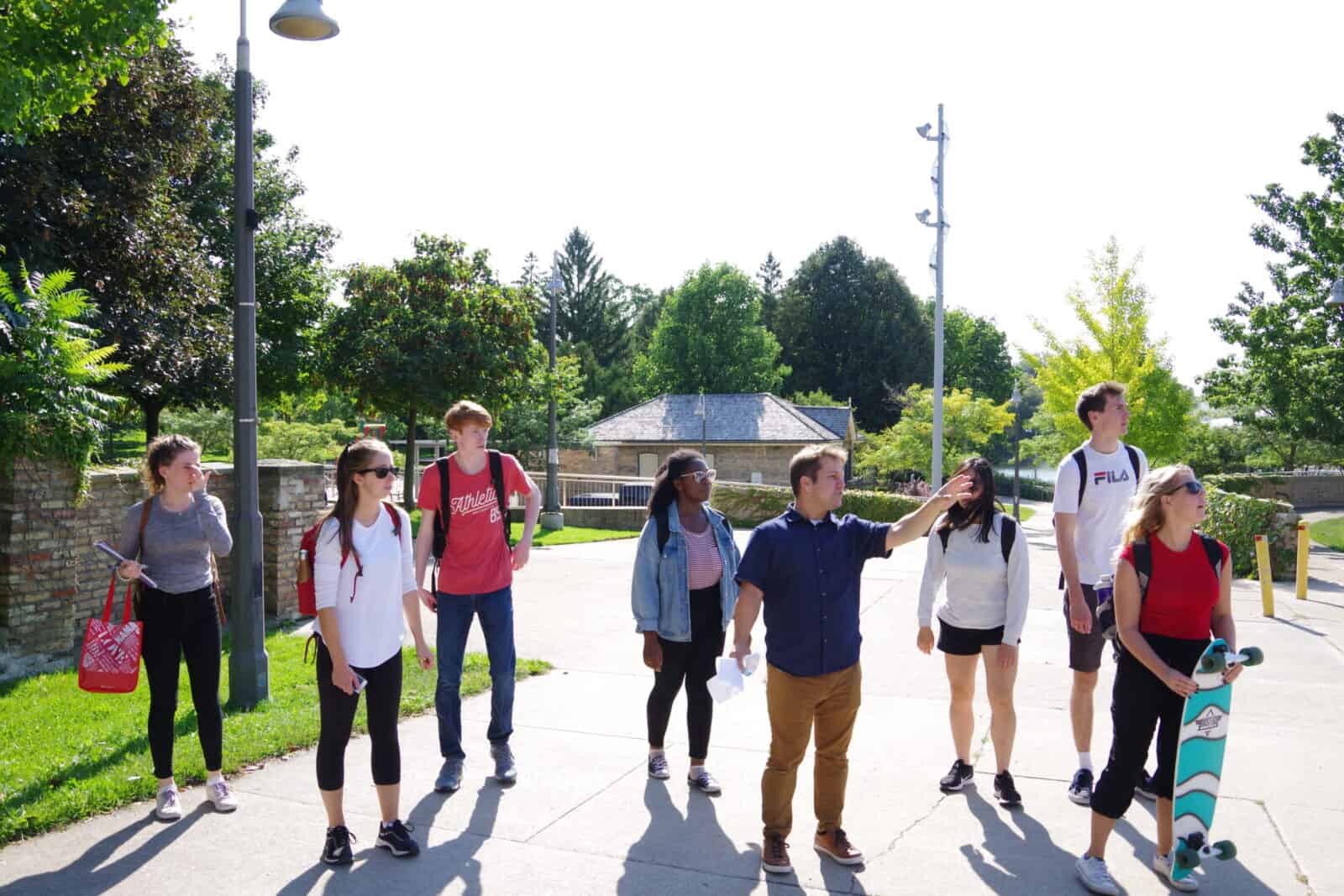 Thank you to Alexander Wray, H.BES, MA-Candidate (Western University, Canada) for providing this post and photo.
Canadian children and youth over the past decade have reported lower levels of physical activity than previous generations and are reporting a worrying decline in their overall mental wellbeing. These populations report spending less time outside than ever before, which reduces opportunities for physical activity and social connection. Technology, socio-cultural shifts in meanings attributed to outdoor spaces, changes in parenting styles, and lower tolerances of risk among education and childcare facilities may be to blame for these losses in outdoor play.
There is clear evidence that outdoor spaces contribute to higher rates of physical activity and better overall mental wellbeing in both children and youth. In turn, population health interventions in these spaces could provide opportunities to increase moderate-to-vigorous physical activity and social connectedness.
At the request of the Public Health Agency of Canada, Jason Gilliland and Alexander Wray of Spatialists Consulting Ltd were tasked with identifying effective interventions for increasing youth physical activity and social connection that could be applied to Canadian outdoor spaces. To meet these objectives, they worked with a team of researchers from the Human Environments Analysis Lab at Western University. The team conducted a rapid review of the literature to identify interventions from Australia, Canada, Europe, New Zealand, and the United States; 104 interventions were identified of which 70 were determined to be effective. The report was crafted based on these 70 effective interventions.
In the report the authors showed that the bulk of studies focused exclusively on pre-school and elementary school children. The findings from these interventions found that exposure to nature, staff training, equipment, and infrastructure were integral to facilitating greater outdoor play and social connection. However, little evidence was available on youth experiences in the outdoors.
A few novel studies provided positive evidence that technology could be deployed as an effective tool to attract children and youth to outdoor spaces and promote social connection. These tools could incentivize engagement with these spaces and with other children through gamification or curating augmented reality experiences that use physical elements of outdoor spaces to trigger digital content.
Most studies noted the importance of natural elements and creating conditions for spontaneous play as critical elements in any outdoor space. These findings align well with previous literature on the topic; however, there remains a troubling lack of Canadian-specific research on these interventions.
In summary, incorporating natural and play-focused elements into outdoors spaces may be effective ways to improve outdoor physical activity and social connection. However, there is considerable need for more Canadian-specific research and research focused on outdoor play among youth (13-17 years). Future research efforts may benefit from coordinating with policy and programs to bridge the gap between evidence and execution. Funding models should support flexibility among researchers to engage with and react to policy, program, and/or infrastructure changes in the community. The Canadian outdoor play research community may also benefit from replicating American and European studies to determine if weather and sociocultural differences affect intervention effectiveness.
The review article in Health Promotion and Chronic Disease Prevention in Canada can be accessed here.
Alexander Wray is a Master of Arts, Geography candidate in the Human Environments Analysis Lab (HEAL) at Western University (www.theheal.ca). The HEAL specializes in the production, evaluation, synthesis, dissemination and mobilization of evidence needed for the development of effective policies, programs and professional practice aimed at creating healthy and vibrant communities. Since 2003, the HEAL has worked extensively with non-profit, local, regional, provincial, and national-level organizations to improve built and natural environments for all Canadians. Alexander has situated his research and practice in the lab at the intersection of public health, geographic information science, and municipal policy and program development.