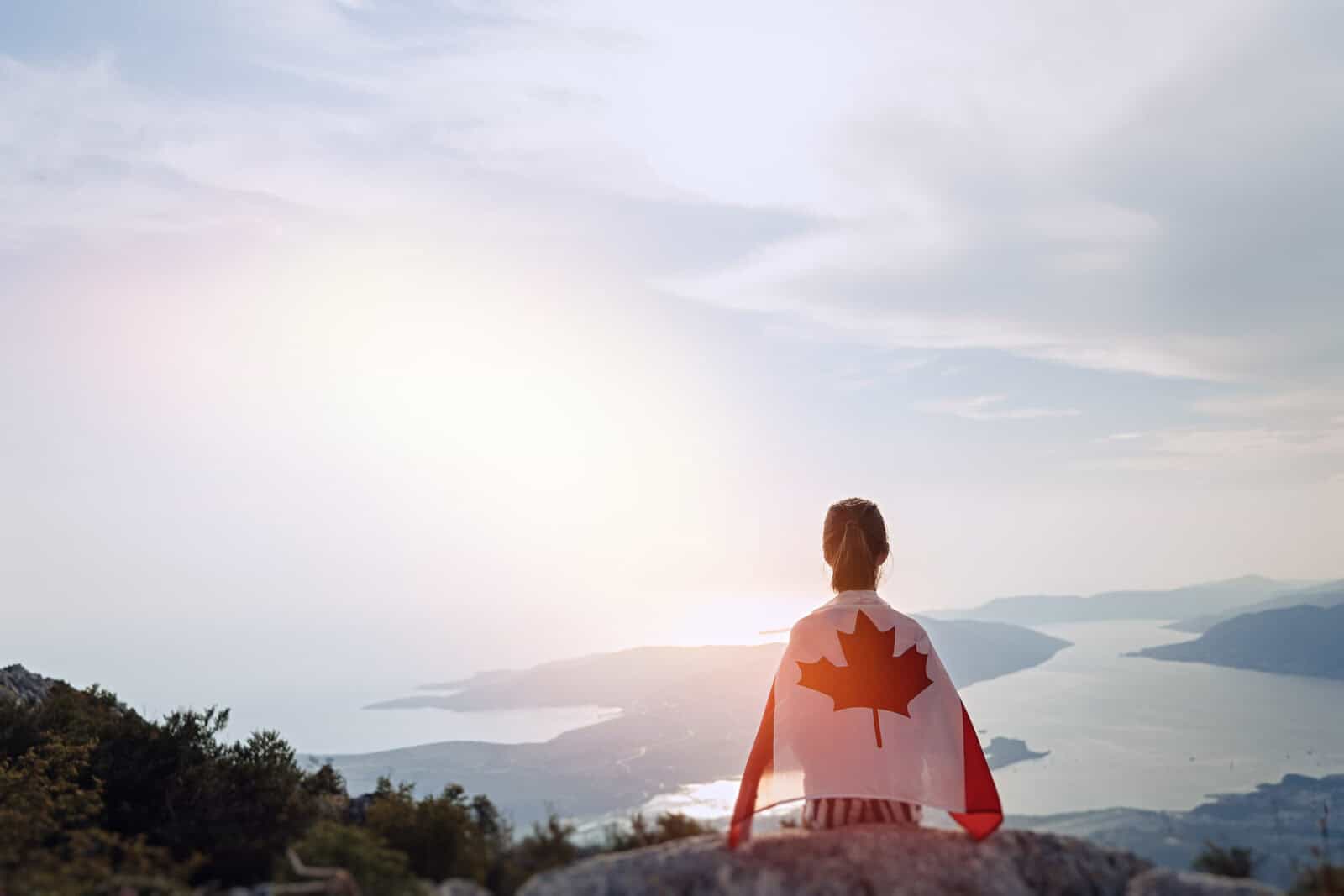 Many have struggled to access the outdoors, parks, and nature as a result of physical distancing regulations instituted across the country in reaction to the COVID-19 outbreak. Though most Provincial and National parks have reopened, and reopened again in the third wave, services are limited. At the municipal level, restrictions are being lifted on parks but certain elements, such as play structures and exercise equipment remain closed in many cities to reduce the spread of the virus. For a visual map of up-to-date restrictions and how they vary across the country, including access to parks and trails, check out this excellent resource by the Canadian Urban Institute.
Outdoor Play Canada's statement on outdoor play during the COVID-19 outbreak highlighted that getting outdoors while adhering to public health guidance (e.g., physical distancing, careful and regular hand-washing) is important to maintain a strong immune system and is one of the best ways Canadians can increase their defence against COVID-19.
Outdoor Play Canada also highlighted that many cities have found innovative ways to facilitate getting outdoors safely and counteract restrictions on access to parks by converting roads to local or foot-traffic only and expanding cycling lanes.
As Canada began to ease restrictions, Saskatchewan led the way with its 5-phase plan. In the first phase of this plan (which began on May 4, 2020), the province reopened low-risk outdoor recreational spaces including fishing and boat launches, golfing (with physical distancing), and set a date (June 1st) and clear guidelines for the operation of parks and campgrounds.
We will update the table below on easing (and tightening) restrictions to accessing the outdoors and outdoor activities as different parts of Canada release their plans (updated as of March 14th, 2021).
Province
Phase
Plan
Public Gathering Restrictions
Dates
British Columbia
1-2
Reopening of parks, recreation sites (beaches, outdoor spaces), and trails that can accommodate physical distancing for day use only.
Maximum 6 people.
May 14th
3
Reopening of overnight camping, with capacity limits on change rooms, washrooms.
Maximum 6 people (June 1st), household + 6 people (Oct 30th).
June 1st
New order
New limits on social gatherings in the Vancouver Coastal Health and Fraser Health regions. Walking outdoors is still encouraged provided it does not turn into a group of people meeting outside. Outdoor sports still permitted.
Socialize only with those in your core bubble (those you spend the most time with and are physically close to).
November 7th
Province-wide restrictions
Walking outdoors is still encouraged provided it does not turn into a group of people meeting outside. Adult and youth sports and fitness activities under specific guidance, outdoor holiday events suspended, public skating permitted.
Socialize only with those in your household or core bubble (max 2 other people outside your household if you live alone).
December 3rd
New PHO order
Walking outdoors is still encouraged. Public skating rinks, public pools can continue to operate with a COVID-19 safety plan in place. Structured extracurricular activities and programs for children or youth under 21 yrs can continue to operate with a COVID-19 safety plan in place. Many outdoor organized sports are prohibited for people 22 years of age and older (April 12).
Update on May 25th: outdoor adult and youth group and team sports permitted.
Maximum 10 people outdoors with physical distancing (March 15th).
March 15th, 2021, April 12, 2021, May 25th
BC's Restart Plan
Step 1 (60% of the 18+ population vaccinated with dose 1 along with stable case counts and COVID-19 hospitalizations): outdoor games and practices for both adults and youth group/team sports allowed.

Step 2 (65% of the 18+ population vaccinated with dose 1 along with declining case counts and COVID-19 hospitalizations): outdoor spectators up to 50 allowed.

Step 3 (70% of the 18+ population vaccinated with dose 1 along with low case counts and declining COVID-19 hospitalizations): indoor fitness classes allowed, Canada-wide recreational travel.

Step 4 (70% of the 18+ population vaccinated with dose 1 along with low case counts and low COVID-19 hospitalizations): return to normal sport competitions, increased outdoor spectators.

Step 1: Outdoor gatherings up to 10 people, organized outdoor seated gatherings up to 50 people.

Step 2: Outdoor gatherings up to 50 people, organized outdoor gatherings up to 50 people.

Step 3: return to usual outdoor gatherings.

Step 4: normal outdoor gatherings.

Step 1: May 25-June 14

Step 2: June 15

Step 3: July 1 (current)

Step 4: September 7 (earliest)

New province-wide restrictions
New gathering restrictions.

All sports tournaments and related travel are now allowed.

Restrictions for outdoor organized events and exercise have not changed.

Indoor personal gatherings are limited to a single household plus 10 visitors or 1 other household.
December 20, 2021 to January 31, 2022
Province-wide restrictions
Sports, recreation and fitness facilities can operate at full capacity.

Proof of vaccination required for entry (12+) and for adult spectators until April 8, 2022.

No gathering limits.
Effective March 11, 2022
Alberta
1
Reopening of vehicle access to public land and parks, access to boat launches in provincial parks, golf courses. Dog parks, playgrounds, and day camps open (subject to municipal restrictions). Reopening of select campgrounds, summer camps (limited occupancy).
Maximum 50 people outdoors (single household bubble).
May 1-14th, June 1st (campgrounds and camps)
2-3
Pools, recreation centres and arenas, team sports, provincial campgrounds open at full capacity.
Maximum 100 people outdoors (household +15 persons cohort).
June 12th (stage 2)
New Zones
Calgary and Edmonton Zone: Residents and visitors of Calgary and Edmonton and surrounding areas under new gathering restrictions. Socializing outdoors (instead of indoors) is encouraged.

New Zone restrictions extended to Fort McMurray, Grande Prairie, Lethbridge, and Red Deer (Nov 13th).

Maximum 15 person gatherings (household +school + one other social/sport cohort).
October 8th (Edmonton Zone), October 26th (Calgary Zone)  
Province-wide restrictions
Outdoor festivals and events prohibited. Additional measures in place for communities on the enhanced status list (purple zones).
Maximum 10 person outdoor gatherings with physical distancing.
November 24th   
Stronger public health restrictions
Outdoor recreation (skating, sledding, nordic skiing) is permitted, but facilities with indoor spaces except for washrooms are closed. Outdoor group physical activity, where 2 metre distancing cannot be maintained, are prohibited.
Socialize only with those in your household or core bubble (max 2 other people outside your household if you live alone).

Increased to 10 person outdoor gatherings with physical distancing (Jan 18th).

December 8th, January 18th
The Path Forward  restrictions plan
Public health restrictions eased in 4 steps according to hospitalization benchmarks. Among restrictions eased, those relating to the outdoors include:

Step 1: Children's sport and performance activities open,

Step 2: Further easing of performance activities,

Step 3: Easing of restrictions on adult team sports,

Step 4: Easing restrictions on outdoor festivals, sporting events, day and overnight camps.

Socialize only with those in your household or core bubble (max 2 other people outside your household if you live alone).

10 person outdoor gatherings with physical distancing.

February 8th
Stop the Spike restrictions
For areas in which there are at least 50 cases per 100,000 and at least 30 active cases:
All outdoor sports and recreation activities are prohibited, except with members of the same household, or two close contacts if living alone. Outdoor recreation facilities open.
Socialize only with those in your household or core bubble (max 2 other people outside your household if you live alone).

5 person outdoor gatherings with physical distancing in high case areas, 10 person outdoor gatherings in lower case areas.

May 5th
Open for Summer Plan
Stage 1 (2 weeks after 50% of Albertans 12+ received 1 dose, hospitalizations below 800 and declining): 10-person outdoor physical, performance, and recreation activities.

Stage 2 (2 weeks after 60% of Albertans 12+ received 1 dose, hospitalizations below 500 and declining): youth day camps, overnight camps, play centres open with restrictions, youth and adult sport resume with no restrictions.

Stage 3 (2 weeks after 70% of Albertans 12+ received 1 dose): all restrictions lifted.

Stage 1: 10 person outdoor gatherings,

Stage 2: 20 person outdoor gatherings, 150 person organized outdoor public gatherings,

Stage 3: All restrictions lifted.

Stage 1: June 1

Stage 2: June 10

Stage 3: July 1

Public health restrictions
Indoor group fitness classes and activities are not permitted. Indoor group classes, sport training and competitions are permitted for under 18 sport but participants must social distance and wear masks except for when engaging in physical activity. Outdoor activities and sports have no restrictions.
Outdoor private social gatherings limited to 20 people with 2 metre physical distancing between households.

Indoor social gatherings limited to 2 households up to a maximum of 10 vaccine-eligible, vaccinated people with no restrictions on children under 12. Indoor social gatherings are not permitted for vaccine-eligible, unvaccinated people.

September 20, 2021
Updated restrictions
N/A
Indoor social gatherings are limited to 10 people 18+ with no limits for people under 17 if accompanied by a parent/guardian.

Outdoor social gatherings are limited to 20 people with 2 metre physical distancing between households.

December 17, 2021
Easing measures
Step 1: Most restrictions removed.

Step 2: Any further restrictions removed.

Step 3: COVID-specific continuing care measures and mandatory isolation removed.

Step 1: Capacity limit 500.

Step 2: Capacity limits and social gathering limits lifted.

Step 3: N/A

Step 1: February 9, 2022

Step 2: March 1, 2022

Step 3: to be determined.

Saskatchewan
1
Reopening of low-risk outdoor recreational spaces: fishing and boat launches, golfing (with physical distancing), operation of parks and campgrounds.
Maximum 10 people.
May 4th

June 1st (parks & campgrounds)

2
Reopening of retail including sporting good/adventure stores.
Maximum 10 people.

May 19th
3-4
Reopening of outdoor recreational spaces, child and youth day camps, outdoor pools, outdoor sports (Phase 4).
Maximum 30 people outdoors.
June 22nd (phase 4)
Mitigation Measures
New gathering restrictions in place. All team/group sports, activities, games, competitions, recitals, practices, etc. are suspended (Nov 27th).

Specific Sport and Physical Activity Guidelines in place.

15 person extended household bubble (Nov 6th).

Reduced to 5 person bubble. Maximum 30 person outdoor gatherings (physically distanced; Nov 19th).

Maximum 10 people outdoors (with physical distancing between households; December 19th).

November 6th, 19th, 27th, December 19th
Re-Opening Roadmap
Step One: Group fitness classes can resume with three metres distance.

Step Two: 150 person capacity at event facilities, libraries and recreational facilities. All remains restrictions on youth and adult sports will be lifted.

Step Three: All public health orders removed.

Step One: Maximum 10 people at private indoor and outdoor gatherings. 30 people at public indoor gatherings. 150 people at public outdoor gatherings.

Step Two: Maximum 15 people at private indoor gatherings. 150 people at public indoor gatherings and private and public outdoor gatherings.

Step Three: All remaining gathering restrictions lifted.

Step One: May 30

Step Two: June 20

Step Three: July 11

Public Health Measures
No COVID-related public health orders.
No COVID-related public health orders.
Beginning February 28, 2022
Manitoba
1
Outdoor recreation (playgrounds, golf courses, tennis courts, marinas) beaches (one household per group) and campgrounds open. Day camps open (max 16 children per site).
Maximum 10 people (single household bubble).
May 4th
2
Team sports for children and adults restored (tournaments not permitted). Day camps open (max 24 children per site). Outdoor recreation facilities may operate at normal capacity (with physical distancing between groups). Travel to northern parks permitted. Pools open.
Maximum 50 people outdoors (single household bubble).
June 1st
3
Day camps expanded to 50 children per site. Travel to northern parks permitted by Western Canadians.
Maximum 100 people outdoors.
June 21st
4
Stage performances reopening at 30% capacity or 500 people, whichever is lower.
Maximum 100 people outdoors.
July 25th
New Levels
Orange level: New gathering restrictions.

Red level: New gathering restrictions and all indoor and outdoor sport facilities closed.

Orange level: 5 people + household.

Red level: Maximum 5 people.

Beginning September 28th
Province-wide restrictions
Outdoor physical activities for individuals and immediate households, including skating, tobogganing and skiing, are allowed. Stay physically distant from those not within your household.

Playgrounds and winter recreation areas in Provincial parks closed on November 10th and reopened December 15th. Provincial park offices closed.

Organized practices, games and competitions at outdoor sporting facilities permitted, but no multi-team tournaments are permitted (March 12).

Outdoor physical activity and recreation permitted up to 5 people with physical distancing between those not from the same household (May 9th).

Update: Outdoor physical activity and recreation permitted with your household only (May 26th).

Update: Outdoor sports and recreation not permitted however group gathering sizes apply (June 12th).

No social bubble, with exceptions for those who live alone. Maximum 5 person outdoor gatherings (physically distanced).

Increased to 2 people may visit a household, 5 person outdoor gatherings (physically distanced; February 12th), updated to 10 person outdoor gatherings (March 12, 2021), reduced to 5 person outdoor gatherings (May 9th, 2021), reduced to no outdoor gatherings (May 26th), increased to 5 visitors on private property (June 12th).

Beginning November 20th, February 12th, March 12th, May 9th, May 26th, June 12th
4-3-2-One Great Summer Reopening Path
Milestone One: Indoor dance, music, theatre and other organized sports and recreation activities may reopen at 25% capacity. Outdoor dance, music and theatre classes and other organized recreation activities may reopen for groups up to 25 people. Swimming and wading pools (indoor and outdoor) may reopen at 25% capacity. Gyms and fitness facilities may reopen at 25% capacity. Summer day camps can open with a maximum of 20 participants in groups. (June 26)

Milestone Two: Dance, theatre, and music school capacity increases to 50%. Indoor sporting facilities may host groups of 25. Outdoor recreation including games and practices may take place with a maximum of 50 people. Gyms and fitness centre capacities expand to 50%. Libraries may open to 50% capacity. (July 17)

Milestone Three: anticipated September 6

Milestone One: Outdoor private gatherings may have a maximum of 10 people. Public outdoor gathering sizes increase to 25 people.

Milestone Two: Maximum 5 people at private indoor gatherings. Maximum 25 people at public indoor gatherings, and 150 people at public outdoor gatherings.

Milestone One: June 26

Milestone Two: July 17

Milestone Three: September 6

COVID-19 Prevention Orders
Outdoor fairs, festivals and community events may be held with a maximum of 50 people.

Sport and recreation facilities; gyms, fitness centres and yoga studios; indoor sporting and recreational facilities may open but are restricted to persons who can provide proof of vaccination.

Overnight camps for children can only operate if the number of campers and staff in a group does not exceed 15, and there is no interaction between different groups of campers.

Private indoor residents are restricted to two households if one or more of the people are vaccine-eligible and unvaccinated. Outdoor private gatherings are limited to 10 people if one or more of the people are vaccine-eligible and unvaccinated.

There is no restriction on the number of persons attending a gathering at a private residence if all persons can provide proof of vaccination or are under 12 years of age.

October 25, 2021
Changes to Public Health Orders
N/A
Indoor private gatherings may include one household and 5 others (10 others if all are vaccinated).

Outdoor private gatherings may include one household and 10 others (20 others if all are vaccinated).

December 21, 2021
Ending COVID-19 restrictions
All restrictions lifted.
All restrictions lifted.
March 15, 2022
Ontario
1
Provincial parks and Conservation Reserves open for limited (walking, hiking, biking, bird-watching only) day-use.
Outdoor recreational facilities (marinas, golf courses, outdoor tennis courts, cycling tracks, horse riding facilities) open.
Non-team sport competitions that can be played under physical distancing measures (water sports, low-contact racquet sports, track and field, rock climbing, horse racing) are reopening.
Maximum 5 people.
May 11-15th (parks)

May 19th (outdoor recreational facilities, non-team sport competitions)

2
Opening of more community and outdoor spaces, including pools, outdoor recreational facilities (paintball, mini golf, archery ranges, go-cart tracks), outdoor training for team sports, beach access and additional camping at Ontario Parks.
Maximum 10 people.
June 12th-22nd
3
Live shows, concerts reopening with physical distancing and gathering limits in place. Outdoor playgrounds and play structures reopening. Reopening of amateur and recreational sports leagues provided physical contact is limited.
Maximum 100 people outdoors (10 person bubble).
Beginning July 17th
2 (modified)
New gathering restrictions implemented in Toronto, Ottawa, Peel and York: stay 2m apart from anyone you do not live with. Team sports closed (October 10th).
Maximum 25 people outdoors (Sept 19th), no bubble (Oct 2nd).
Beginning September 19th
New framework

Green: Team and individual sports modified to avoid physical contact, 100 person recreational classes outside permitted.

Yellow: Team and individual sports modified to avoid physical contact, 25 person recreational classes outside permitted.

Orange: Team and individual sports modified to avoid physical contact, 25 person recreational classes outside permitted.

Red: Team sports closed except for training, 25 person outdoor fitness classes permitted.

Grey: All indoor sports activities closed. Outdoor recreational amenities (skating rinks, parks, trails) open with restrictions. Wearing a mask outdoors is recommended if you cannot be physically distant from others.

Province-wide State of Emergency (effective Jan 12th-Feb 15th): Downhill skiing, golf courses and outdoor driving ranges closed to the public.  Cross-country skiing, ice fishing, snowmobiling and dog sledding open, as long as they follow public health requirements.

Stay at home order (effective April 8th): Playgrounds initially closed, but reopened following backlash. Parks, recreational areas, playgrounds remain open. Outdoor recreational amenities (golf courses, tennis courts, basketball courts, skate parks, baseball diamonds, soccer fields, multi-use fields) closed.

Updated to Provincewide Emergency Break (May 22nd): outdoor recreational amenities open.

Green to Red: No bubble (avoid close contact with anyone outside your household), maximum 25 people outdoors.

Grey: No bubble (avoid close contact with anyone outside your household), maximum 10 people outdoors, physically distanced (Feb 15th).

Stay at home: no outdoor gatherings with anyone you do not live with.

Emergency break: 5 person outdoor gatherings (May 22nd).

Beginning November 7th, updated Jan 13th, Feb 15th, April 8th, May 22nd
Reopening Ontario
Step 1 (60% of adults vaccinated with one dose): Focus on resuming outdoor activities with smaller crowds.  Outdoor sports training, fitness classes and personal training up to 10 people, day camps and overnight camps open, outdoor pools open.

Step 2 (70% of adults vaccinated with one dose, 20% with 2 doses): Further expansion of outdoor activities, including outdoor sports and leagues, overnight camps.

Step 3 (70-80% of adults vaccinated with one dose, 25% with 2 doses): Opening of indoor sports and recreation.

Step 1: 10 person outdoor gatherings.

Step 2: 25 person outdoor gatherings.

Step 3: Larger outdoor social gatherings and organized public events.

Step 1: June 11

Step 2: June 30

Step 3: July 16

Exiting the roadmap: On hold

A Plan to Safely Reopen Ontario and Manage COVID-19 for the Long Term
September 22, 2021: Begin to require proof of vaccination in higher-risk indoor settings.

January 17, 2022: in absence of concerning trends, begin to lift vaccine certificate requirements in sports and recreational facilities.

September 25, 2021: Begin easing capacity limits in certain settings.

October 9, 2021: Lift capacity limits in certain settings where proof of vaccination is required.

October 25, 2021: Lift capacity limits in sport, recreational facilities.

Beginning September 22, 2021

March 28, 2022 (and onwards): all remaining public health and workplace safety measures lifted including masking, revoke public health Emergency Orders, recommendations on where masking could be maintained (ex., transit)

Ontario Further Strengthening Response to Omicron
The following indoor public settings are reduced to a 50% capacity limit: personal physical fitness trainers, indoor recreational amenities, gyms.
Informal social gatherings are limited to 10 people indoors and 25 people outdoors.

December 19, 2021

Gradually Easing Public Health Measures
Step 1: Sports and recreational fitness facilities including gyms at 50% capacity.

Step 2: Removing capacity limits on indoor sports and recreational facilities.

Step 3: Lifting capacity limits in all indoor public settings.

Step 1: Gathering limits 10 people indoors and 25 outdoors.

Step 2: Gathering limits 25 people indoors and 100 outdoors.

Step 3: Gathering limits 50 people indoors and no limit outdoors.

Step 1: January 31, 2022

Step 2: February 17, 2022

Step 3: March 1, 2022

Quebec
1-3
Some National Parks are reopening for day-use only including hiking, biking, and fishing.

Opening of non-organized leisure activities (canoeing, kayaking, kitesurfing, paddleboarding, outdoor horseback riding).

Opening of non-organized outdoor recreational sports activities carried out individually or in pairs without physical contact (track and field, rowing (singles), speed canoeing and kayaking, golf, tennis (singles), open water swimming, triathlon, sailing (single rider).

Maximum 10 people, maximum 3 households (single household bubble).
May 20th
4-5
Reopening of overnight camping
Maximum 10 people, maximum 3 households (single household bubble).
June 1st
6
Reopening of outdoor swimming pools, outdoor exercise equipment and play structures, outdoor team sports (combat activities restricted to training only) and open air activities, day camps.
Maximum 50 people (3 household bubble).
June 8th (pools, equipment), June 22nd (day camps), June 30th (sports)
7
Matches in combat sports may resume in accordance with recommendations from public health authorities.
Maximum 250 people (3 household bubble).
September 2nd
New Alert Levels
Level 1-2: Maximum 250 people for outdoor organized activities (with physical distancing).

Level 3-4: Maximum 25 people for outdoor organized activities. Interregional travel for sport not recommended.

Level 4: Sports and recreational activities (skiing, ski lessons, snowshoeing, skating, free hockey, etc.), including activities, lessons and guided workouts, are permitted outside in public places for single people, in duo, as a family or in a group of up to eight people. These activities must be carried out with respect for social distancing.

Level 1-2: 10 person gatherings.

Level 3: 6 person gatherings.

Level 4: No private gatherings outdoors, with exception for those living alone (1 other person permitted).

September 8th, September 30th (alert level 3-4 introduced)
New Holiday Guidelines
Outdoor group sports and recreational activities permitted in groups up to 8 people, with physical distancing.
Red zone: no indoor or outdoor private gatherings,  those living alone may join one household.
December 17th – January 10th
Containment of Quebec
Curfew in orange zone: Between 9:30

 

p.m. and 5 

 

a.m., residents are prohibited from being outside their home except for essential reasons.

Curfew in red zone: Between 9:30  p.m. and 5  a.m., residents are prohibited from being outside their home except for essential reasons (updated from 8 to 9:30pm on March 17th).

Special emergency measures in some zones: curfew from 8 p.m. to 5 a.m.

Outdoor leisure and sports activities carried out in free practice in accordance with health instructions are authorized (eg: walking, cross-country skiing, skating).

Update:

Tier 1 – Vigilance: no curfew, outdoor sports and leisure activities permitted to a maximum of 50 people, with physical distancing (as much as possible)

Level 2 – Early warning: No curfew, supervised outdoor sports and leisure activities with brief contact permitted to a maximum of 25 people, with physical distancing (as much as possible), unsupervised sports permitted up to 12 people.

Orange and Red and Special Emergency Zones: No indoor or outdoor private gatherings, those living alone may join one household.

Tier 1 (updated as of May 28th): 10 people.

Level 2: 8 people.

January 9th, March 17th, April 13th, May 28th
Reopening plan
In amateur events where spectators remain seated in stands/bleachers/fixed seats, the maximum number of spectators per area is 50 indoors and 100 outdoors. (July 12)

Return to normal organization at primary and secondary schools, flexibility in childcare and preschool settings. (End of August or later)

Gathering limits depend on region.

As of July 19, 2021 all regions are at Level 1-Vigilance (green zone):

Maximum 10 people from different addresses, or occupants from 3 households indoors (private).

Maximum of 20 people from different addresses or occupants from 3 households outdoors (private).

July 12, September 1
Measures in effect in Quebec
No changes to outdoor sports and recreation rules.

Sports tournaments and competitions suspended, gyms return to 2m distancing and 50% capacity.

Private indoor gatherings restricted to 10 people or occupants of 3 homes.

Outdoor private gatherings remain limited to 20 people.

December 20, 2021
Measures in force
Most COVID-19 public health measures removed.
Most COVID-19 public health measures removed.
March 12, 2022
New Brunswick
Orange Level
Reopening of parks, beaches, marinas, golf courses, outdoor tennis courts, and driving ranges, as well as access to recreational fishing and hunting. Reopening of campgrounds (day-use only) and outdoor recreational activities including day camps.
Maximum 10 people (two household bubble).
April 24th
Yellow Level
Low-contact team sports can be played, reopening of swimming pools and water parks, reopening of overnight camps, organized sports, recreational facilities.
Maximum 50 people outdoors (family and friends bubble).
May 29th, June 19th (camps)
Modified  Levels
 Yellow: Limit groups to a consistent list of friends and family. Sports and recreational activities permitted subject to conditions on gatherings (max 50 ppl outdoors) and approval of a plan.

Orange: Low-risk recreational activities permitted, sports activities limited to practices/drills within a single team.

Red: Organized sports and recreation facilities closed. Parks open.

Lockdown: Outdoor activities with members of your bubble permitted (i.e. snowshoeing, ice fishing, cross-country skiing). Walking trails open. Skating rinks, downhill skiing closed. Groomed trails closed.

Yellow: Close friends and family ('Steady 15'). Maximum outdoor gatherings of 50 people, physically distanced.

Orange: 'Steady 10', 10 person bubble (in addition to your household; Feb 5), outdoor gatherings with your Steady 10 only.

Red: Single household bubble, with exception for those living alone (1 other person permitted). Maximum outdoor gatherings of 5 people, physically distanced.

Lockdown: Single household bubble, with exception for those living alone (1 other person permitted). No outdoor gatherings.

Starting October 9th, updated November 20th, January 23rd, February 5th
Path to reopening
Phase 1 (75% of New Brunswickers 12+ have 1 dose, hospitalizations remain low, all health zones remain at Yellow alert level): organized sporting activity permitted with operational plan. Games and competitions restricted to players/teams based in PEI, NL, Avignon or Temiscouata.

Phase 2 (75% of New Brunswickers 12+ have 1 dose, 20% received 2nd dose, hospitalizations remain low, all health zones remain at Yellow alert level): Games and competitions with players/teams based outside of Atlantic Canada subject to travel requirements.

Phase 3: (75% of New Brunswickers 12+ have 2 doses): mandatory order will end and all restrictions lifted.

Phase 1: Contact with all family and friends in yellow areas.

Phase 2: Contact with all family and friends in yellow areas.

Phase 3: No restrictions.

Phase 1: June 15

Phase 2: June 16

Phase 3: July 30

Circuit Breaker
No restrictions on fully vaccinated people gathering at businesses, events and service where proof of vaccination is required (e.g., arenas, gyms, yoga studios, etc.).

Schools remain open unless advised otherwise by Public Health. Students can participate in school sports and extracurricular activities while following the Healthy and Safe School guidelines. Teams and extracurricular groups will be permitted to travel within New Brunswick.

Gatherings at restricted to single households.
Starting for Zone 1, Zone 3, Zone 4, and Zone 5 on October 8, 2021

Zone 2 (Saint John region) added on October 29, 2021

Temporary measures in response to arrival of Omicron variant
Organized sport and all other organized activities for children under 12 are prohibited. For those 12+ practices and skills drills are permitted involving only a single team at a time.
People must limit their household contacts to a maximum of a Steady 20.
December 17, 2021
Living with COVID-19
Provincial COVID-19 restrictions lifted.
Provincial COVID-19 restrictions lifted.
March 14, 2022
Nova Scotia
1
Trails, provincial and municipal parks open.

Reopening of driving ranges, sportfishing, and access to boating, yacht, or sailing clubs for preparing boats for use.

Only with those in the same household.
May 1st
2
Reopening of public beaches, golf courses, outdoor sports facilities (e.g. horse riding, paddling, sailing/boating, tennis).
Maximum 10 people.
May 15-29th
3
Private campgrounds operating at 100% capacity, provincial campgrounds open at reduced capacity, outdoor sports facilities and playgrounds open, summer day camps open (10 people per camp group), public pools open.
Maximum 50 person outdoor gatherings, physically distanced (10 person bubble).
June 12-26th
4
Travel within Atlantic Canada permitted (Atlantic travel bubble). Social outdoor events at expanded capacity.
Maximum 250 person outdoor gatherings, physically distanced (10 person bubble).
July 3rd
5
Sport participation gathering expanded to 50 people.
Maximum 250 person outdoor gatherings, physically distanced (50 person sport/arts bubble).
Oct 1st
New Regional Restrictions
Halifax and Hants County restrictions: Organized sports not permitted until December 21st.
Maximum 10 person bubble (Halifax and Hants County).
November 26th, December 21st
Nova Scotia-wide guidelines
In-person organized sports events not permitted (Dec 22nd).

Updated to organized sporting events, festivals, activities permitted up to 150 people outdoors (with physical distancing; Feb 8th). Outdoor physical activities permitted with physical distancing.

Updated to no outdoor events (April 29th, 2021) permitted. Outdoor recreational activities permitted with up to 5 people, with physical distancing.

Update: players, participants, officials in organized sport can practice with up to 25 people outdoors, outdoor spectators permitted with an Event Plan, outdoor festivals and special events permitted with up to 75 people outdoors with social distancing.

Maximum 10 person bubble.

Updated to household bubble, or 1 other household if living alone (April 28th).

Updated to 25 people outdoors.

December 22nd, February 8th, April 28th
Reopening Plan
Phase 1 (50% of population has 1 dose, new confirmed cases continue to decrease, patients in hospital continue to decrease): Sports games, competitions, tournaments not permitted. Sport players in organized sports can practice and train with up to 10 people outdoors without social distancing. Campgrounds open.

Phase 2 (60% of population has 1 dose, new confirmed cases continue to decrease, patients in hospital continue to decrease): amateur performing arts rehearsals outdoors up to 25 people.  Players, participants in organized sports can practice and train up to 25 people outdoors without social distancing. Outdoor day camps open with up to 15 people.

Phase 3 (65% of population has 1 dose, new confirmed cases continue to decrease, patients in hospital are low): Participants in organized sport and performing arts can gather with up to 50 people outdoors. Overnight outdoor camps can operate with up to 15 people.

Phase 4 (75% of population has 1 dose, new confirmed cases very low and little ongoing spread): Sport spectators permitted. Day camps can operate with up to 30 people.

Phase 5 (75% of population has 2 doses): New normal.

Phase 1: 10 person social bubble outdoors.

Phase 2: 25 person gatherings without social distancing.

Phase 3: 25 person outdoor gatherings without social distancing.

Phase 4: 50  person outdoor gatherings without social distancing.

Phase 5: No gathering limits for events hosted by organization. Informal social gatherings may have up to 25 people indoors and 50 outdoors.

Phase 1: June 7

Phase 2: June 16

Phase 3: June 30

Phase 4: July 14

Phase 5: October 4

Current restrictions
Participants and officials in organized sports can gather with up to 60 people indoors and outdoors without social distancing for practices, training, games and regular league play.

Businesses and organizations offering indoor recreation and leisure activities can operate at maximum capacity possible with social distancing

Private indoor and outdoor gatherings limited to household members and a consistent social group up to 20 people.
December 21, 2021
Reopening plan
Phase 2: Fitness recreation facilities can operate at 75% capacity. Recreational day camps can operate with up to 30 people.

Phase 3: All restrictions lifted.

Phase 2: Gatherings limited to 25 people indoors and outdoors.

Phase 3: All gathering limits removed.

Phase 1: February 14, 2022

Phase 2: March 7, 2022

Phase 3: March 21, 2022

Prince Edward Island
1
Reopening of recreational activities: golf courses, fishing, marinas, access to seasonal properties
Maximum 10 people outdoors
May 1st – 22nd
2
Organized recreational activities permitted: soccer, baseball, football, tennis, day camps.

Reopening of recreational facilities: swimming pools, arenas, recreational and community centres, campgrounds. Consultation with national and provincial bodies is advised.

Maximum personal gatherings of 20 people outdoors.
June 1st – 26th
New Normal
Sports: Sport and recreation open based on risk and with precautions in place

. Overnight camps, public spaces open.

(Atlantic bubble suspended as of Nov 24th).

Keep household circle small, use discretion with friends and family.
Oct 1st

Post Circuit Breaker Holiday Measures
Organized recreation and team sports permitted up to 50 people (with an operational plan), with enhanced attention to records for contact tracing.
Maximum 10 person gatherings, with physical distancing.
January 6th
Updated Post Circuit Breaker  Measures
Organized recreation and team sports permitted following organized gathering limits (with an operational plan), with enhanced attention to records for contact tracing.
Maximum 10 person private gatherings, 50-person organized gathering outdoors.
March 13, 2021
Moving Forward
Step 1 (disease level low, transmission is controlled within PEI, Atlantic provinces and Canada, increasing levels of vaccination among PEI residents): team sports must follow gathering guidance and team sport guidelines,

Step 2 (disease level low, transmission is controlled within PEI, Atlantic provinces and Canada, 80% of PEI residents received 1st dose, 80% of high-risk residents received 2nd dose):  Same guidelines as above.

Step 3 (disease level low, transmission is controlled within PEI, Atlantic provinces and Canada, increasing levels of vaccination among PEI residents): Sport and recreation activities that require close contact limited to a single cohort of 100 per day.

Step 4 (disease level low, transmission is controlled within PEI, Atlantic provinces and Canada, 2nd dose received by 50% of 12+ PEI residents): same as step 3.

Step 5 (disease level low, transmission is controlled within PEI, Atlantic provinces and Canada, 2nd dose received by 80% of 12+ PEI residents): No restrictions on sport and recreation.

Step 1: 20 person outdoor gatherings.

Step 2: 20 person gatherings.

Step 3: 20 person gatherings, 200 person outdoor organized gatherings.

Step 4: 100 person gatherings indoors and 200 people outdoors.

Step 5: No gathering limits.

Step 1: June 6

Step 2: June 27

Step 3 & 4: July 18

Step 5: September 12 (delayed)

Temporary COVID-19 measures
Fitness facilities can operate at 50% capacity with physical distancing.

Group and team-based organized recreational activities suspended (includes all organized sports, tournaments, competitions and games; team skills training and practices; group classes where distancing can't be maintained).

Recreational activities are permitted.

Personal gatherings of household plus 10 people maximum, these 10 people should be kept consistent.
Now until January 8, 2022
Moving on – Transition Plan to Living with COVID-19
Step 1: Increased gathering limits for sports and recreation activities.

Step 2: Increased gathering limits for sports and recreation activities.

Step 3: Anticipated removal restrictions.

Step 1: Increased personal and organized gathering limits.

Step 2: Increased personal and organized gathering limits.

Step 3: Anticipated removal of gathering limits.

Step 1: February 17, 2022

Step 2: March 17, 2022 (estimated)

Step 3: April 7, 2022 (estimated)

Newfoundland and Labrador
4
Golf courses, hunting, fishing, municipal parks open
2 household bubble
May 11th
3
Overnight camping permitted with restrictions, summer camps to open, medium-risk outdoor recreational activities (i.e. team field sports) to resume, outdoor pools to reopen (limited number of people)
2 household + 6 people bubble
June 8th
2
Tent camping open, outdoor playground equipment accessible for use, arenas open

Holiday events and gatherings guideline introduced (November 12th)

Maximum 50 people outdoors (2 households + 6 people bubble) U
June 25th
5
Reverting to Level 5: Outdoor activities, including walking, hiking, or snowshoeing, are encouraged as long as physical distancing can be maintained between household bubbles
Single household bubble, single persons may join another household. All outdoor gatherings limited to the same household
February 15th, 2021
2-4
Updates to Levels:

Level 2: Outdoor playgrounds and equipment can be used. Outdoor activities, including walking, hiking, or riding a bike, are encouraged as long as physical distancing can be maintained between bubbles. Group and team sport and recreation activities are permitted, in accordance with guidelines.

Level 3, 4: Outdoor playgrounds and equipment can be used. Outdoor activities encouraged as long as physical distancing can be maintained between bubbles. Group and team sport, recreation activities suspended.

Level 2 Steady 20: Private gatherings limited to 20 people. Outdoor gatherings limited to 50 people with physical distancing.

Level 3 Tight 10: private gatherings limited to 10 people. Outdoor gatherings limited to 20 people with physical distancing.

Level 4: Gathering limited to household bubble.

March 13th, 2021
Together. Again.
Step 1: Outdoor sports tournaments permitted as part of Return to Play Plans. Recreational and arts facilities follow limits for formal gatherings. Cohorting continues at child care centres, after school programs and day camps; cohorts can be combined for outdoor play. (July 1)

Step 2: Indoor and outdoor sports tournaments permitted with appropriate COVID-19 protocols. Recreational and arts facilities follow limits for formal gatherings. Cohorting continues at child care centres, after school programs and day camps but large group outdoor activities are permitted. (As early as August 15)

Step 3: Indoor and outdoor sports tournaments permitted with appropriate COVID-19 protocols in place. Recreational and arts facilities follow the limits for formal gatherings. (As early as September 15)

Step 1: Outdoor formal gatherings up to 250 people, indoor gatherings up to 200 people or 75% capacity (whichever is less). Personal gatherings outdoors up to 50 people, indoor gatherings limited to a household and their Steady 20.

Step 2: Outdoor formal gatherings up to 500 people with distancing, indoor gatherings up to 350 people with distancing. Personal gatherings are limited to the number of people that can fit in the space with physical distancing.

Step 3: Outdoor formal gatherings have no capacity restrictions with physical distancing, indoor capacity increased to be determined. Personal gatherings limited to number of people that can fit in the space with physical distancing.

Step 1: July 1

Step 2: August 15

Step 3: September 15

Public Health Orders (varies by region)
Gyms and fitness facilities (yoga studios, swimming pools, indoor tennis and squash facilities, dance studios, and arenas) may open with capacity limits of 100 people or 50% of the venues capacity, whichever is less.

Amateur sport and recreation activities are limited to team practice and training only.

Private gatherings are limited to one household and the same 20 close and consistent contacts.
December 19, 2021
NLife with COVID-19
Restrictions lifted.
Restrictions lifted.
March 14, 2022
Yukon
1
Territorial parks and campgrounds reopening, sites will be serviced. Recreation centres reopening.
Maximum 10 people (2 household bubble)
June 4th
2
Reopening of overnight summer camps for children
Maximum 50 people outdoors (2 household bubble)
July 1st
3
Guidelines for sports and recreation available.
Maximum 50 people outdoors (15 person social bubble).
August 1st, 2020
A Path Forward
Step 1: Camps, recreational programming, overnight camps allowed with approved plans.

Step 2: Increased capacity of recreational centres with approved operational plans.

Step 1: 15 person social bubble

Step 2: 20 person social bubble, 100 people outdoors

Step 1: March 11, 2021

Step 2: May 25, 2021

Holiday planning guidelines: COVID-19
No updates.
Limit the size of gatherings to a maximum of 10 people from 2 households.
Holidays 2021
Restrictions: COVID-19
COVID-19 public health measures removed.
COVID-19 public health measures removed.
April 4, 2022
North West Territories
Territorial park trails remained open for day-use only, without services.
Maximum 10 people outdoors (single household bubble)
April 10th
1-2
Municipal parks, beaches, boat launches, playgrounds, overnight camping (phase 2) reopened.  Organized outdoor activities (baseball, softball, cricket, golf, soccer, ultimate frisbee) permitted (phase 2).
Maximum 25 people outdoors (phase 1), 50 people outdoors (10 person bubble) (phase 2).

Reduced to fave-five: 5 person bubble (December 21st), 50 people outdoors with physical distancing.

Phase 1: May 15th

Phase 2: June 12th, December 21st

3
Reopening of pools, outdoor tourism, outdoor community festivals.
No limits outdoors
TBD
Emerging Wisely
Outdoor sports, music festivals permitted. Children can play outdoors without physical distancing.

A New Normal: All restrictions lifted (mid to late fall)

Outdoor gatherings up to 200 people (Early June)

Indoor gatherings up to 200 people (Early July)

June 9, 2021
GNWT's Response to COVID-19
New gathering limits effective October 22, 2021
Outdoor gatherings up to 50 people permitted

Up to 25 people permitted at an indoor (non-household) location

Private households can have up to five visitors at one time to a maximum of 10 people unless all members are vaccinated. If all eligible household members and guests are fully vaccinated, the gathering limit can increase to 25 people.

October 22, 2021
Nunavut
1
Reopening of territorial parks (no indoor services), municipal playgrounds, outdoor day camps, pools
Maximum 25 people outdoors
June 15th
2
Continued opening of above outdoor recreation
Maximum 50 people outdoors
June 29th
3
Parks and park buildings open.
Maximum 100 people outdoors
October 5th
New measures
New restrictions in Baffin and Kitikmeot Region, Sanikiluaq, Rankin Inlet, Kivalliq region

All public playgrounds, municipal parks, territorial parks, and territorial park reserves must close.

Maximum 5 people outdoors
November 18th
New measures
Territorial parks, and territorial park reserves closed in Arviat and Whale Cove until Jan 12th (re-closed in Arviat from January 27th – March 10th).

Playgrounds, municipal and territorial parks closed in: Iqaluit (April 15th, 2021), Kinngait (May 4th).

Gathering restrictions between 5-100 people without physical distancing, depending on the region. See Government of Nunavut page for regular updates.
December 2nd, 28th, Jan 12th, Jan 27th, February 5th, March 10th, April 15th, May 4th
Nunavut's Path: moving forward during COVID-19
July 16
COVID-19 Department of Health Services update
Six-week approach that will end with the lifting of Territorial Public Health Emergency.
Six-week approach that will end with the lifting of Territorial Public Health Emergency.
Beginning March 14 and ending April 11, 2022