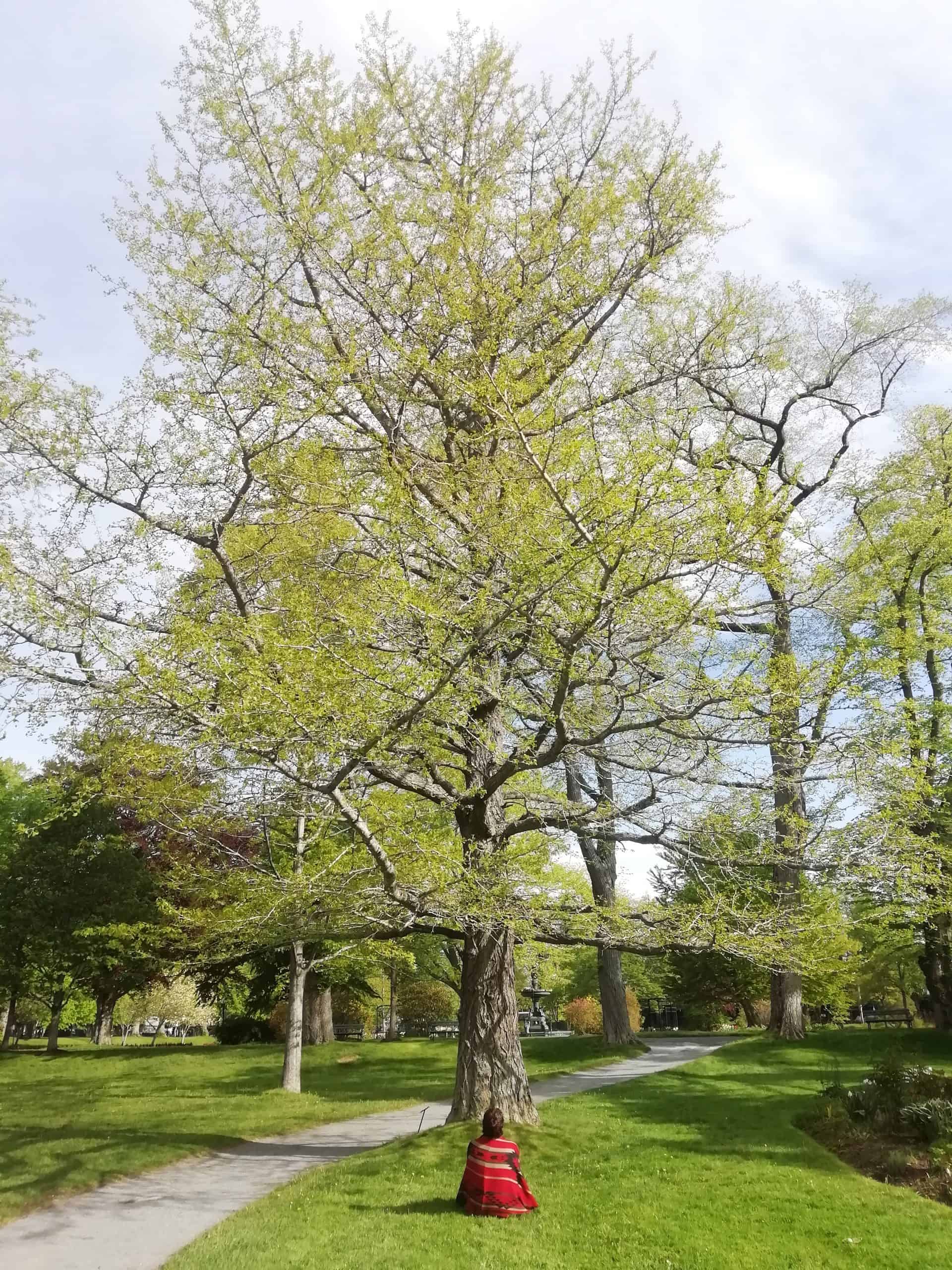 Thank you to Julietta Sorensen Kass, Text-a-Tree Project Lead, Dr. Peter Duinker, Professor Emeritus Faculty of Management Dalhousie University, and Mike Smit, Associate Dean at the School of Information Management Dalhousie University, for providing this post.
Connecting with nature can help our physical, mental, emotional, and social health. This may have you conjuring up images of mountain-top sunrises, rolling hills and valleys, vast national parks, or exotic rainforests. But you'll find nature in urban settings, too! In fact, urban nature is the only nature many Canadians have regular access to. Research suggests that people today are less engaged with nature, and this had Julietta Sorensen, Masters student in Resource and Environmental Management wondering how she could help people connect to nature in an urban setting. After learning about a Melbourne project which led to citizens emailing love-letters to trees, she wondered what would happen if people were able to text trees. Text-messaging is often used to maintain and develop relationships with other humans, so she thought maybe the same technology could be used to spark or deepen relationships with trees. 
With a community of supporters, Julietta initiated the project called "Text-A-Tree". It was both an engagement project as well as a research study, which served as the final project for her Master of Resource and Environmental Management degree. Fifteen trees in the Halifax Public Garden were selected: a mix of both native and international species, with the Mi'kmaw and Japanese cultures prioritized. Each tree was paired with one or more volunteers who were provided with cultural and biological information regarding their tree. Volunteers used their understanding of the trees to create a name, gender identity, and overall personality for each tree. This served to inform the "voice" of the tree, which participants could engage with by texting a phone-number on the sign in front of each tree. Rather than looking to overlay human characteristics onto trees the goal was to use a human narrative to showcase each tree's individuality. The project's philosophy was heavily influenced by the Mi'kmaw concept of personhood, as described by Margaret Robinson.  
Aside from the necessary information for providing consent, the signs gave no prompting as to what should be said to the trees, only that participants were invited to text them. Behind the scenes, the team used a customer service platform called Zendesk to manage the messages, which flowed in at a rate and volume far beyond our expectations. 
From July 7th to August 31st, 2019, the trees received a total of 10,643 messages from 2,888 different phone numbers! They were clearly not the only ones interested in talking to trees.  
After the two-month active phase of the project drew to a close, Julietta analyzed all the incoming messages and looked for emerging patterns or concepts. While many of us have become accustomed to viewing urban trees in terms of carbon sequestration, shade provision, or flood control, she found that participants most valued their relationships with the trees.
To an extraordinary degree, participants looked entirely past the human volunteers "behind" the trees and conducted themselves as though they truly were conversing with a tree. They were pleasant and polite, asking after each tree's own history, wellbeing, preferences, and opinions.
Participants consistently asked questions focused on who the tree was and what their experiences were. These were answered as accurately as possible by the volunteers who would use information such as approximate age, historical events in Halifax (eg. Halifax Explosion, Hurricane Dorian), growth patterns (eg. scarring, unusual positioning of trunk), and species characteristics (eg. production of fruits or flowers, interactions with other species) to formulate a response.
The closing survey revealed that through this project, participants' change in connection to urban trees stemmed from the process of learning about those trees. This learning process appears to have focused on individual trees and their unique identities as opposed to speaking broadly about a species or of trees in general. This is mirrored in human interactions in which one might say they enjoyed learning about someone they recently met. In much the same way, the results here suggested that the project's greatest perceived benefit lay not in what was gained in the human-tree interactions but in the interactions themselves. 
A central motivation for testing the project was a desire to understand what people value about urban trees so the research team could use that information to better serve the people who live among them. It is for the benefit of all that our cities and societies facilitate human-nature relationships. Text-A-Tree demonstrated that technology may be a useful tool in helping people connect to urban nature, and that our urban forests have the potential to support human-nature connection and relational health. So, if you could text a tree what would YOU say? 
Read full publication here.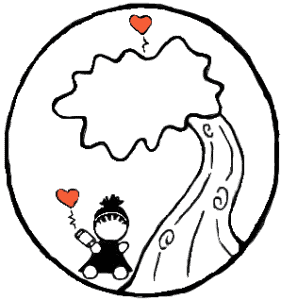 ---
Julietta Sorensen Kass was the project lead for Text-A-Tree. She has a Bachelors of Environmental Science from the University of Lethbridge and a Masters of Resource and Environmental Management from Dalhousie University. Her research passion centres around the urban forest and the network of socio-ecological relationships within it. She is also a certified Forest Therapy Guide, and her goal is to help people connect to nature in the places they live, work, and play. She is currently taking time at home to explore the world anew with her first child, husband, and pet parakeets. Read Julietta's book on the Text-A-Tree experience here. 
---
References 
Dearborn, D.C., Kark, S., 2010. Motivations for conserving urban biodiversity. Conserv. Biol. 24 (2), 432–440. https://doi.org/10.1111//j.1523-1739.2009.01328.x.  
Endreny, T.A., 2018. Strategically growing the urban forest will improve our world. Nat. Commun. 9 (1), 1160. https://doi.org/10.1038/s41467-018-03622-0.  
Lafrance, A., 2015. When you give a Tree an Email Address. Retrieved from: The Atlantic https://www.theatlantic.com/technology/archive/2015/07/when-yougive-a-tree-an-email-address/398210/. 
Legge, M., Robinson, M., 2017. Animals in Indigenous spiritualities: implications for critical social work. J. Indig. Soc. Dev. 6 (1), 1–20.  
Mayer, F.S., Frantz, C.M., Bruehlman-Senecal, E., Dolliver, K., 2009. Why is nature beneficial? The role of connectedness to nature. Environ. Behav. 41 (5), 607–643.  
Ordoñez-Barona, C.O., 2015. Adopting public values and climate change adaptation strategies in urban forest management: a review and analysis of the relevant literature. J. Environ. Manage. 164, 215–221. https://doi.org/10.1016/j.  
Robinson, M., 2014. Animal personhood in Mi'kmaq perspective. Societies 4 (4), 672–688.  
Soga, M., Gaston, K.J., Koyanagi, T.F., Kurisu, K., Hanaki, K., 2016. Urban residents' perceptions of neighbourhood nature: does the extinction of experience matter? Biol. Conserv. 203, 143–150. https://doi.org/10.1016/j.biocon.2016.09.020.  
Squire, K., Dikkers, S., 2012. Amplifications of learning: use of mobile media devices among youth. Convergence 18 (4), 445–464. https://doi.org/10.1177/ 1354856511429646.  
Zendesk, 2020. Support Suite. Retrieved from https://www.zendesk.com/.