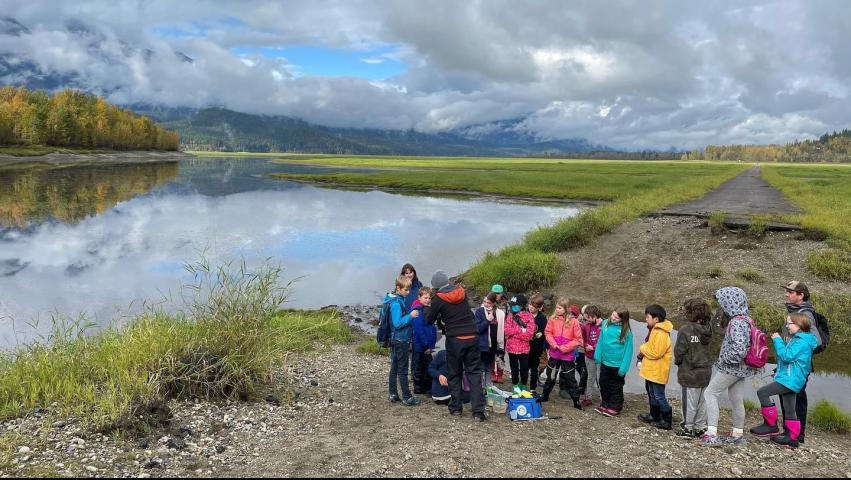 COVID-19, Cross-Sectoral Connections, Equity, Diversity & Inclusion, Health, Wellbeing & Development, Indigenous Peoples and Place-Based Outdoor Play, Open Access, Outdoor Play Environments, Practice, Professional Development
Taking the Local, Global: The Outdoor Learning Store Success Story
Thank you to Jade Harvey-Berrill, Outreach and Events Manager for CBEEN & The Outdoor Learning Store, for providing this post.
This post was originally published on the North American Association for Environmental Education website.
Over a decade ago now, inspired by their local towering mountains, boundless lakes and streams, and dense forests, educators from across the Canadian Columbia Basin recognized that they shared geographic and cultural links and a common interest in environmental education (EE).
The Columbia Basin Environmental Education Network (CBEEN) was born out of this shared sense of identity and from the common desire to support and promote EE on a regional scale. Thinking bigger and more inclusively over the past 10 years, CBEEN has grown from a small group of passionate educators to a large and vibrant network of educators from across the Columbia Basin and beyond.
As part of this growth, the Outdoor Learning Store was created by expanding the CBEEN team and connecting this local passionate educator community to others across Turtle Island (North America) who desired the same outcomes. The Outdoor Learning Store is a charitable non-profit social enterprise that offers network-approved outdoor learning equipment and resources for educators and learners, while supporting outdoor learning non-profit organizations.
By offering free professional development virtual workshops and providing tools and resources through the store, the CBEEN team quickly recognized the appetite, both across Canada and internationally, for sharing these outdoor learning resources that are supported by sustainable and ethical policies and practices.
The Outdoor Learning Store came about as a response to the lack of readily available options for outdoor learning equipment and resources in Canada. After 12 months of planning, investigating, learning, and growing, the Outdoor Learning Store launched in March 2021.
While developing the store, we also developed a close-knit network of over thirty partners and advisors that work together to uplift each other's voices in the outdoor and environmental education sphere. 
Working closely together with organizations like Take Me Outside—who promote outdoor education for all students and have their own social enterprise in their online clothing store (Author Jade is wearing one of their toques and Truth and Reconciliation, Indigenous designed T-shirt in her picture to the right; photo credit: Jade Harvey-Berrill)—it has become clear that being solely reliant on grant funding is not the only option for non-profits.
The global pandemic enhanced the need for fresh air and a fresh approach to learning. Research and experience showed that tools, resources (pedagogical, activity-based), and equipment can help remove barriers for teachers to take learning outside and there are funding opportunities to help support their purchase from other non-profits or funding sources. With this in mind, the store has quickly become a one-stop shop for outdoor learning, catering to educators of all ages across five key themes: Curriculum Connections, Getting Outdoors, Indigenous Learning, Nature and Ecosystems, and Climate and Sustainability.
The relationships in the Outdoor Learning partnership have continued to grow, increasing in size and scope to now include partners from the United States. The outdoor learning partnership is a good news story of networking, collaboration, and social enterprise with like-minded, passionate individuals and organizations coming together to ensure the success of outdoor learning for today's students.
Whether teachers are die-hard environmental and outdoor supporters looking to deepen their practice or newly minted educators trying to figure out first steps, resources in the store or from partners such as Water Rangers, Ocean Wise, Interpretive Guides Association, Green Teacher, and Natural Curiosity help educators get excited and inspired for outdoor learning.
Resources in the store are supported by free virtual workshops, an entertaining and informative podcast, Earthy Chats, created in collaboration with Green Teacher, Columbia Basin Environmental Education Network (CBEEN), and Stoked On Science and a place where creators and authors share their inspiration, and detail their work and the pathway to where they are today. The store also offers free customized webinars for organizations or school boards (available worldwide) to help share the possibilities of outdoor learning in their setting.
In one year, the store has grown in capacity, success, and team size, offering employment and progression to their staff and supporting 2,500 schools and 10,000 educators from across Canada in accessing resources and support to help take their learning outdoors.
With orders and participation in workshops coming as far afield as the Netherlands, South Korea, and the United Kingdom, it just goes to show that while oceans may separate us, mountain ranges may intercept us, and climates and ecosystems and environments may be all different, we are united in our desire—in our need as humans—to spend time outside.
According to Kuo et al., (2019), in their paper "Do Experiences with Nature Promote Learning?" published in Frontiers in Psychology, "converging evidence strongly suggests that experiences of nature boost academic learning, personal development, and environmental stewardship" (p. 1).
Outdoor learning encompasses it all, improving social, emotional, and physical wellbeing, and boosting the academic, forward-thinking, and smart and caring brains of the next generation.
Let's focus on the good news story that the pandemic has brought us—one where kids run, play, and learn outside; where the curriculum is taken outdoors; where Traditional Ecological Knowledge and Indigenous Perspectives are at the heart of land-based learning; and where diversity, equity, and inclusion align to give all students the opportunity to deepen their connection to nature, wherever and whatever that means to them.
Our work at the Outdoor Learning Store hopes to provide educators with the tools and resources to facilitate outdoor learning in the easiest and most enjoyable way possible.
For more information, you can contact Jade, Outreach and Events Manager for CBEEN & The Outdoor Learning Store,  here.
---
References
Ming Kuo, Michael Barnes, and Catherine Jordan. "Do Experiences With Nature Promote Learning? Converging Evidence of a Cause-and-Effect Relationship," Frontiers in Psychology 19, (Feb 2019): 1, https://doi.org/10.3389/fpsyg.2019.00305(link is external).
Featured image photo credit: Jade Harvey-Berrill