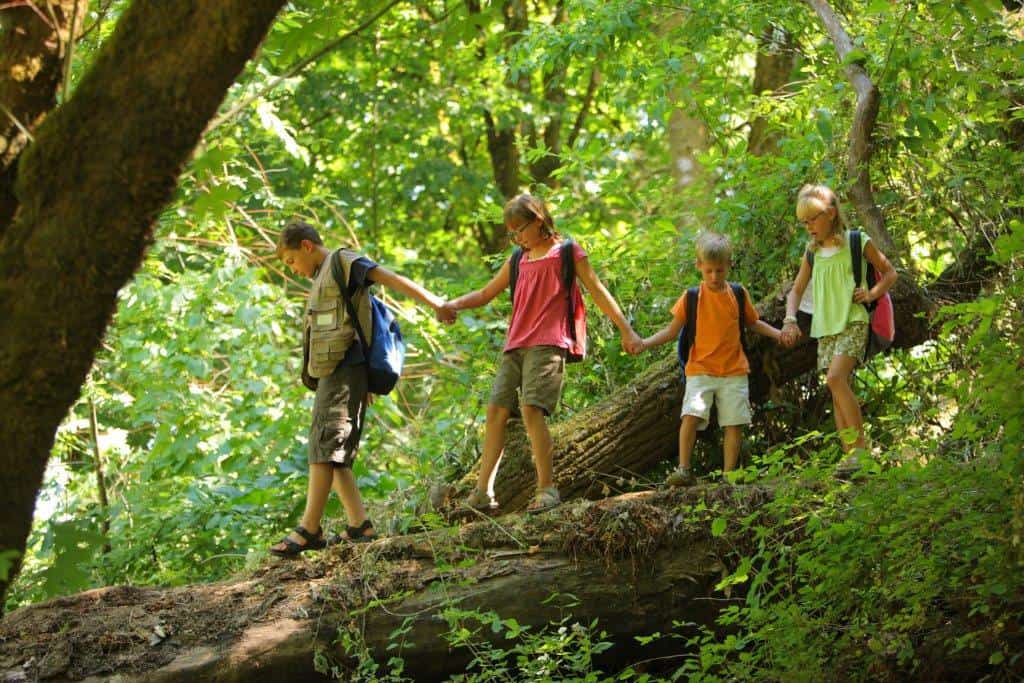 Thank you to Anna Kaufmann, Intern at Technical University of Munich, Germany, Jan Ellinger, PhD Candidate at Technical University of Munich, Germany, and Dr. Christoph Mall, Researcher at Technical University of Munich, Germany, for providing this post. 
"Man is by nature a social animal" – Aristotle. It was already known in 300 B.C. that we humans are social creatures. Social interaction is important for all age groups, but it plays an especially important role in children´s development with respect to their self-esteem, mental health and executive functions. Schools are a key environment for supporting children's social interactions given this is where they spend large proportions of their time. Previous research has demonstrated possible developmental benefits of teaching children during school hours outside of school buildings in accordance with the curriculum. One of these teaching concepts incorporating this is "Education Outside the Classroom" (EOtC) which has been a focus of research interest for several years. This student-centred teaching concept is usually realised in a natural environment and shows promising results such as increased physical activity, higher school motivation and overall well-being.  
Mygind, Bølling et. al. and Fägerstam conducted studies demonstrating that through this rather new and unconventional way of teaching, social interaction can improve immensely, especially regarding new peer relations and affiliations. Building on these findings, a group of German researchers published a new study in February 2023, in which they measured social interactions in EOtC settings and explored whether this setting had an impact on social relatedness and structure of friendships. 
In the paper, "Changes in social interaction, social relatedness, and friendships in Education Outside the Classroom: A social network analysis" published in Frontiers in Psychology, fifth graders attending EOtC lessons for at least four hours every week for a full school year in a nearby forest were compared to a parallel class of students receiving traditional indoor teaching. 
For the EOtC class a decrease of social interaction during lessons and an increase of social interaction during breaks was observed. Exactly the opposite was found for the comparison class. Thus, while overall social interaction did not differ, when and where it occurred was substantially different between the two groups.
Moreover, both groups showed a strong tendency to socialize with peers of the same gender, which underlines the role of gender when it comes to the choice of friends. Furthermore, the findings did not show any co-evolution between social interaction and social relatedness and friendships – meaning that spending time together did not automatically result in new friendships in either class. Therefore, future studies should be careful in evaluating parameters such as rates of communication, given that communication during class in our sample was not necessarily reflective of increased social bonding. 
To conclude, this study offers a strong basis for further studies and highlights parameters that should be carefully considered. One must keep in mind that EOtC is a rather new concept in Germany, which often leaves teachers feeling uncertain and thus results in them naturally focusing on the successful delivery of a lesson rather than on the mixing of student social groups. It is important to note that concepts such as EOtC offer great possibilities in terms of social interaction but even with great organizational investment, strong positive outcomes do not follow automatically, and academic guidance is needed. For the successful implementation of EOtC, providing area-wide training, relevant teaching materials and mentorship for inexperienced teachers is of significant importance. 
---
References 
Bølling, M., Pfister, G. U., Mygind, E., Nielsen, G. (2019b). Education outside the classroom and pupils' social relations? A one-year quasi-experiment. Int. J. Educ. Res. 94:29–41. https://doi.org/10.1016/j.ijer.2019.02.014   
Bølling, M., Mygind, E., Mygind, L., Bentsen, P., Elsborg, P. (2021). The Association between Education Outside the Classroom and Physical Activity: Differences Attributable to the Type of Space? Children 8, 486. https://doi.org/10.3390/children8060486 
Ellinger, J., Mess, F., Bachner, J., von Au, J. & Mall, C. (2023). Changes in social interaction, social relatedness, and friendships in Education Outside the Classroom: A social network analysis. Front. Psychol. 14:1031693. https://doi.org/10.3389/fpsyg.2023.1031693 
Ellinger, J., Mess, F., Blaschke, S. & Mall, C. (2022). Health-related quality of life, motivational regulation and Basic Psychological Need Satisfaction in Education Outside the Classroom: an explorative longitudinal pilot study. BMC Public Health, 22(49). https://doi.org/10.1186/s12889-021-12450-9 
Fägerstam, E. (2014). High school teachers' experience of the educational potential of outdoor teaching and learning. J. Adventure Educ. Outdoor Learn. 14(1):56-81. https://doi.org/10.1080/14729679.2013.769887 
Jørring, A. H., Bølling, M., Nielsen, G., Stevenson, M. P., Bentsen, P. (2019). Swings and roundabouts? Pupils' experiences of social and academic well-being in education out-side the classroom. Education 3-13. 48(4):1-16. https://doi.org/10.1080/03004279.2019.1614643 
Mygind, E. (2009). A comparison of childrens' statements about social relations and teaching in the classroom and in the outdoor environment. J. Adventure Educ. Outdoor Learn. 9(2):151–169. https://doi.org/10.1080/14729670902860809  
Schneller, M. B., Duncan, S., Schipperijn, J., Nielsen, G., Mygind, E., Bentsen, P. (2017a). Are children participating in a quasi-experimental education outside the classroom intervention more physically active? BMC Public Health 17(1):523. https://doi.org/10.1186/s12889-017-4430-5