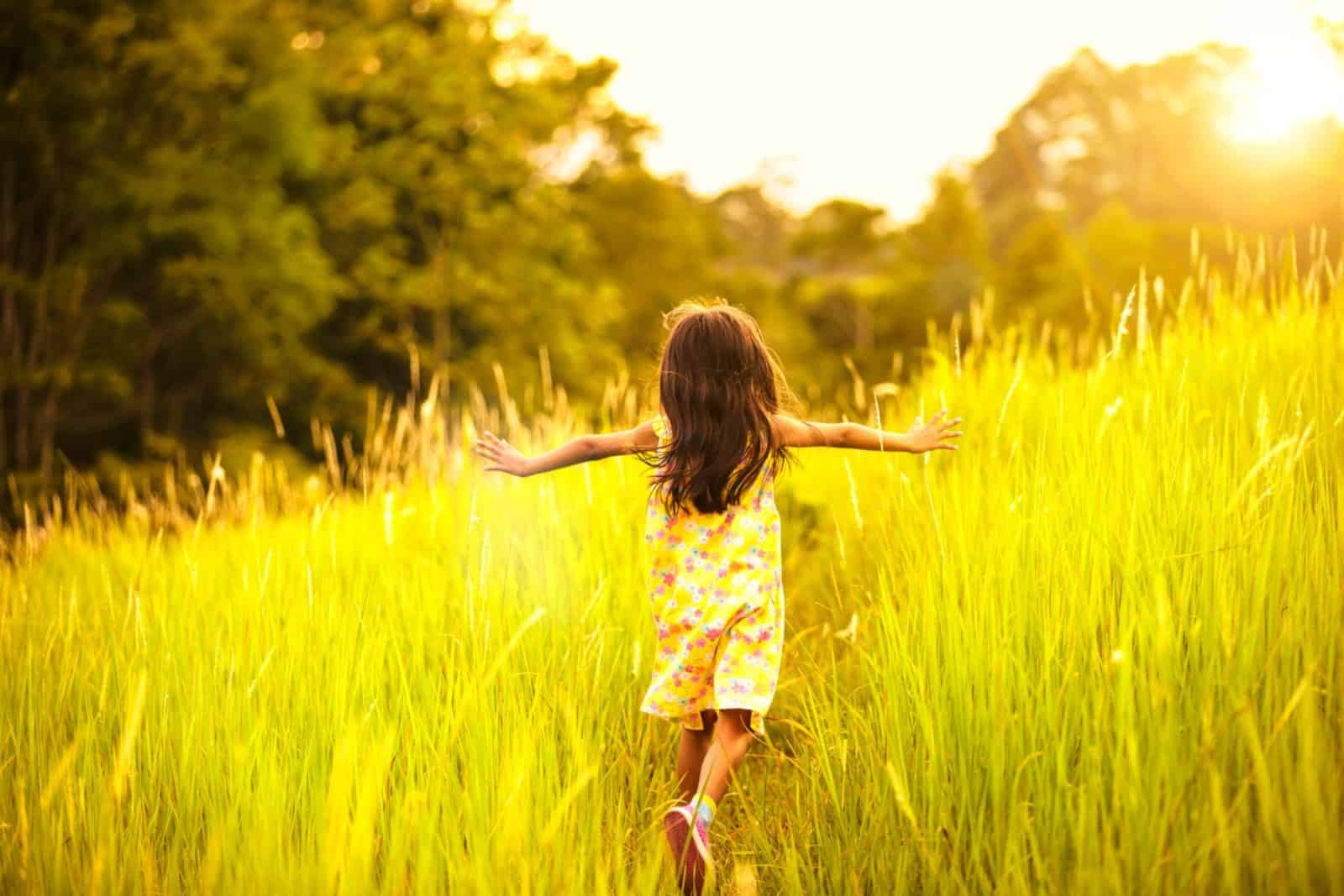 COVID-19, Cross-Sectoral Connections, Equity, Diversity & Inclusion, Health, Wellbeing & Development, Indigenous Peoples and Place-Based Outdoor Play, Open Access, Outdoor Play Environments, Policy, Position Statement on Active Outdoor Play, Practice, Professional Development, Research, Research & Data Collection, Safety & Outdoor Play, State of the Sector Report, Uncategorized
Research – Scoping Review on Children's and Youth's Outdoor Play Publications in Canada
Thank you to Dr. Louise de Lannoy, Research Manager at Outdoor Play Canada, for providing this guest post. 
The 2015 Position Statement on Active Outdoor Play highlighted the unequivocal benefits of outdoor play for children's physical, mental, emotional, social and environmental health, well-being and development. The Position Statement invigorated the outdoor play sector, bringing together many and diverse stakeholders, and inspired outdoor play research, policy, and practice in Canada and abroad. For example, the Position Statement has been cited nearly 400 times, was used by local Ontario government to inform health policy efforts and was employed by the District of Saanich in a BC Supreme Court ruling as evidence on the benefits of risk taking, helping the District defend their stance on outdoor play. 
To build on the momentum from seven years prior and propel the sector forward, the Outdoor Play in Canada: 2021 State of the Sector Report was developed. This Report served to address three main questions as a follow-up to the Position Statement: how has the outdoor play sector changed since the publication of the Position Statement; what is the current state of the sector; and what are the priorities for the sector over the next 5 years. Addressing the first two questions involved tracing the evolution of the outdoor play movement in Canada since 2015, which you can read in the full State of the Sector Report, here. It also involved conducting a scoping review of outdoor play literature published, in part, because of these efforts. That scoping review has just been published and is freely available on the Health Promotion and Chronic Disease Prevention Journal website, here! Continue reading for a brief overview of how the scoping review was done and what we found. 
How the Scoping Review was done 
The authors searched three databases for articles published after September 2015 (when the Position Statement on Active Outdoor Play was published) in English or French on outdoor play by authors from Canadian institutions or that studied Canadian children and/or youth. Articles were organized according to the State of the Sector Report priorities, and within each priority, study design and measurement methods were tallied.  
What we found 
The initial search for articles yielded 4327 articles! After removing duplicates and excluding irrelevant articles, a total of 275 articles were included in the scoping review (Figure 1). This volume of articles was truly surprising, given that the Position Statement was informed by just 49 articles on outdoor play, largely published by authors from outside of Canada.  
Figure 1: Distribution of included articles in the scoping review by year of publication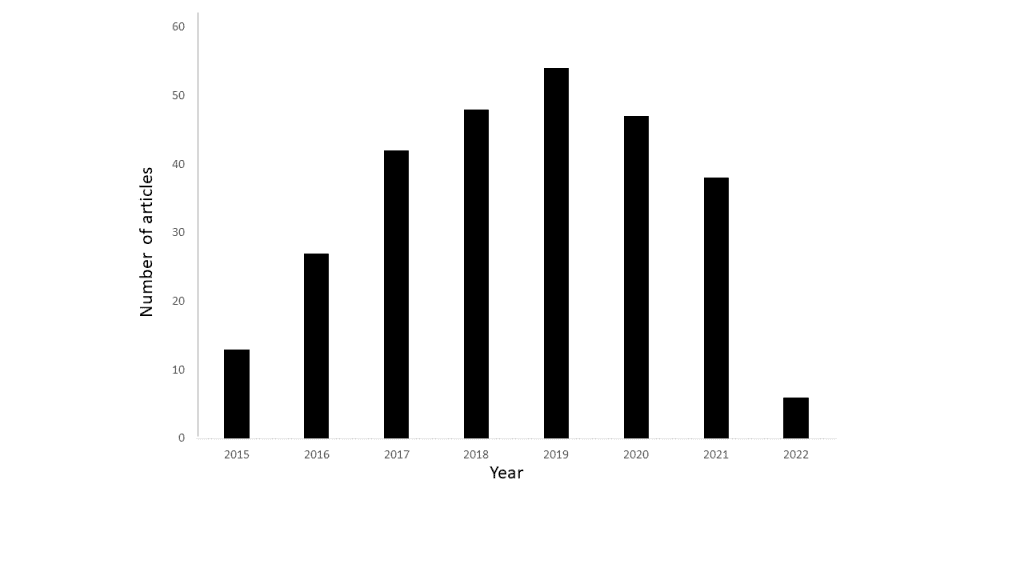 Note: Article counts for 2015 and 2022 are based on partial years; counts in 2015 were from September to December and in 2022 from January to March. 
Sample sizes in the included articles varied from one parent's reflections to 999,951 data points from health databases. The most common State of the Sector Report Priority area was health, wellbeing, and development, whereas the least common were COVID-19 and Indigenous Peoples and Land-based Outdoor Play (Figure 2).  
Figure 2. Distribution of articles in the scoping review aligned with the State of the Sector Report priority themes, by year of publication (2015–2022)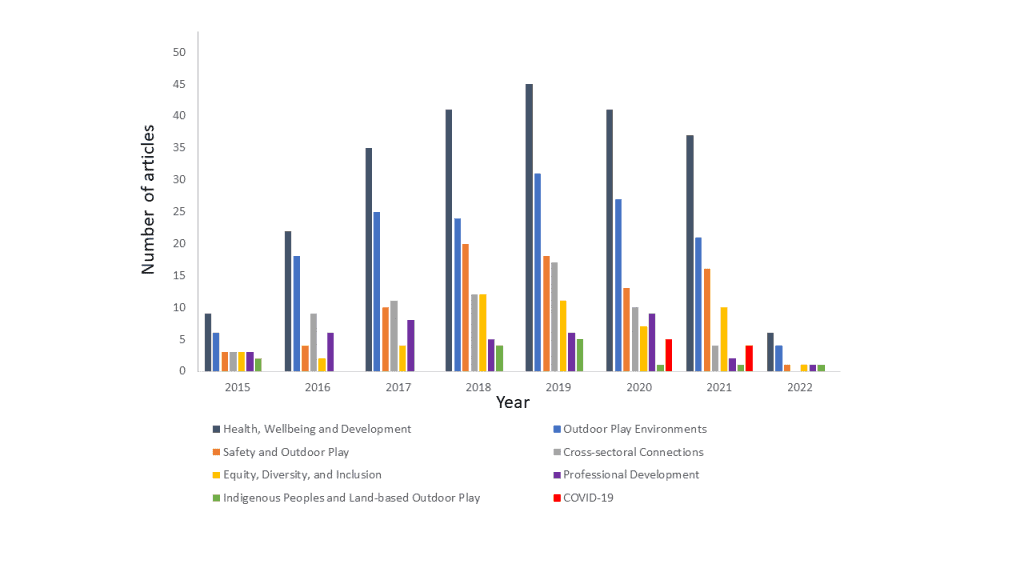 In terms of study design, cross-sectional studies were the most common and the least common were rapid reviews. More studies used subjective (e.g., parents reporting on their child's behaviour) than objective (e.g., GPS devices to measure where children play) measurement methods. Across priorities, physical health was the most examined outcome and mental/emotional development the least. See the full paper for tables summarizing study design, measurement of outdoor play, and outcomes documented. 
Important take-aways 
Areas where there is a lot of knowledge and evidence to inform policy and practice 
This scoping review showcased the considerable amount of articles published on outdoor play in Canada since the Position Statement on Active Outdoor Play. It showed that there is a wealth of knowledge on outdoor play for children and youth's health, wellbeing and development, which can and should be used to inform the advancement of outdoor play across sectors.  
Areas where knowledge and evidence gaps remain 
It also showcased where gaps in knowledge continue to exist, for example, on the relationship between outdoor play and mental/emotional development among children and youth.
Given the concerns about the mental health of children and youth as a result of the COVID-19 pandemic, and the parallel push to encourage children to go outdoors for physical and mental health benefit, investing more resources into understanding and exploring the benefits of outdoor play on mental and emotional developmental is clearly needed.  
Further, while it may not be that surprising that there were few articles on outdoor play and COVID-19, given the short timeframe of the pandemic relative to full timespan used to search for articles, what was concerning was that the second least common area studied was Indigenous Peoples and Land-based outdoor play.
Supporting knowledge generation with Indigenous Peoples and promoting learning about Indigenous land-based outdoor play may provide an opportunity to build relationships of trust between Indigenous and non-Indigenous peoples in Canada and move towards reconciliation, as outlined in the Truth and Reconciliation Commission of Canada Calls to Action. The State of the Sector Report described this as a major priority and given the central importance and intertwined nature of land for outdoor play, one that is embedded in all other priority areas. 
A new tool for knowledge sharing 
Finally, a major product of this scoping review is the publicly available database of all articles included in this review, organized according to the State of the Sector Report priorities.
Our aim with this database was to create a resource that researchers, policymakers, educators, students, and other stakeholders may easily use as an evidence-base to advance the State of the Sector Report priorities and address the actions identified within each priority. Access the database here.